All eyes on Walcott as Arsenal head to Barcelona, celebrating Newcastle's promotion, Liverpool lose funding & Dzeko targetted by Chelsea, Man United & Spurs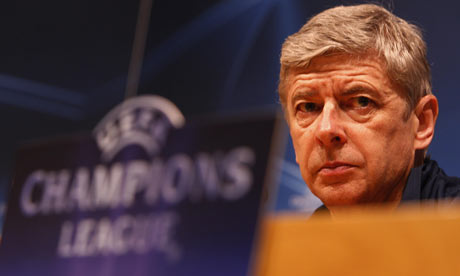 Comment & analysis round-up
Quote of the day: "It's Easter, you know, a time of resurrection. That's what we want to do. The players have come back from the dead once and they can do it again. They know that they escaped being out of the competition and we have a chance now that we have to take. At 2-0 down last week, I felt we needed a miracle, but always I had hope. I know that this team will never give up and I knew that when we managed to get through Barcelona's passing, we always looked dangerous. The tie is more balanced than the impression that people have. They gave us big problems in the first part of the first leg but if you look at the number of chances we created through the whole game, it is quite interesting. We have won away in many difficult places in Europe. Barcelona is a place where we have not done it but there is no better opportunity than now. My team has such a great mental strength and I believe that they can fight against the odds anywhere in the world. I am confident that, despite the injuries we have, we can do it." – Arsene Wenger.
Runner-up: "Chris [Hughton] needs to be shown time and patience, but he's earned the right to manage Newcastle in the Premier League. To get out of this division, you must have players with that heart, spirit and desire and the likes of Kevin Nolan, Steve Harper and José Enrique wanted to put a wrong right. If you haven't got the b******s for it, you won't get out, but they've shown b******s." – Sheffield United manager Kevin Blackwell.
Today's overview: Delicately poised at 2-2, can Arsenal do the unexpected and win at the Nou Camp to dump Barcelona out the Champions League?
Trying to predict Arsenal's tactics, Matt Hughes believes that Theo Walcott may have to start on the bench to accommodate Wenger's larger game-plan. "The key to the tie is likely to lie in Arsenal's ability to start with more purpose than they mustered last week. Wenger admitted that his players were intimidated by Barcelona's reputation — and superlative ball retention — and is confident they will not stand off their opponents in the same manner. To counter this danger, he is giving serious consideration to starting the more defensively minded Emmanuel Eboué on the right of midfield, leaving Theo Walcott to wreak havoc against a tiring defence from the substitutes' bench."
Countering, Matt Lawton makes the case for why Walcott must start. "Much could depend on how Wenger chooses to deploy Walcott. The feeling here was that the manager would start with Emmanuel Eboue and save his sprinter for the role of impact substitute. But that could be a mistake. Walcott seems to worry the people of Barcelona and such anxiety can often spread from the terraces into the team and Wenger should try to exploit that. Saving Walcott could prove pointless if Barcelona have the tie sewn up by then."
A different assessment of how Arsenal need to perform in Spain was offered by Henry Winter. "If Arsenal are to achieve one of the greatest results in their European history, they must first gain possession, rarely a simple task when the dexterous duo Xavi and Lionel Messi are in opposition, and then attack at speed. Arsenal must put the racing pigeons among the Catalans."
Sticking with the latter approach, Oliver Kay picks out the north Londoner's speed-machine as they key for tonight match. "Guardiola expects Barcelona to control this evening's game as serenely as they did the first 70 minutes of the first leg, but the one thing they cannot control is Walcott's pace. Their difficulties in restraining him last Wednesday might have had more to do with fatigue after their earlier exertions… but Walcott's presence, whether in the starting line-up or as a substitute, threatens at least to plant a seed of uncertainty in the minds of Barcelona's players."
Jeremy Wilson is found donning rose-tinted specs as the assessments of Walcott continues. "Walcott's pace is not the only quality that should concern Barcelona. Unlike so many of his England team-mates, he appears to be finding his optimum form and fitness at the most important moment of the season. His contribution last week underlined a tendency to deliver his best performances on the biggest stages. His hat-trick in Zagreb set the tone for England's success in qualifying for the World Cup and many will recall his run through most of the Liverpool defence in the Champions League quarter-final at Anfield two years ago."
As if suggesting Arsenal have no other attacking qualities, Mark Fleming also highlights Walcott as Arsenal's key to upsetting Barcelona. "Plenty of attention has been paid to what Walcott does not have. He does not have the outrageous talent of Barcelona's talisman Lionel Messi; he does not have the crossing ability of David Beckham; and former England player Chris Waddle went as far as to say he 'does not have a footballing brain.' But what he does possess – as Guardiola knows only too well – is pace, that most precious of commodities. And Barcelona do fear it, whatever their manager may say."
David Hytner flags up one of the key defensive match-ups as Sol Campbell's ability to mark Barca's dynamo Bojan. "Wenger described Bojan as 'very mobile, very tricky, very short and with very quick feet'; not only the antithesis of Ibrahimovic but an exacting test for Campbell, who has looked short of a yard since he re-joined Arsenal. The veteran was signed, in part, for his experience and ability to inspire the younger players around him but tonight, as with everybody according to Wenger, he will be required to play the match of his life."
But what of Barcelona?
Picking out the Catalans strengths Ian Chadbrand looks no further than the current Barca boss. "This glorious creation is the dream which Pep built. The biggest danger to Arsenal  on Tuesday is not Messi, but the man who gave Messi wings. It is the man who has instilled the 'all for one, one for all' mentality in his musketeers… After Frank Rijkaard's exotic team crumbled, he ditched Deco and Ronaldinho, brought youthful idealism, discipline, belief, a new sense of dressing-room equality and, above all, the extraordinary passion which only a bloke who has loved every job here, from ball-boy to first-team captain, could summon."
Taking a broader view of the week's Champions League matches, Kevin McCarra feels that the English stranglehold on the competition has gone. "That ascendancy is gone. Liverpool could not get out of the group stage, finishing behind Lyon and Fiorentina. In the last 16, Chelsea were outplayed and outwitted by Jose Mourinho's Internazionale. This week, Arsenal and Manchester United, the Premier League's survivors, cannot be handicapped by presumptuousness."
Lastly on the Champions League, The Mirror's David Maddock shows all his detective skills to bark "Wayne Rooney came through a secret training session yesterday to make himself available for Wednesday's crucial Champions League showdown… Whichever way the United boss leans, Rooney is certain to be involved, with the Manchester giants sure to name him at least on the bench."
Party Tyne: Well that didn't take too long. A season after slipping into the second tier of English football, the black and whites of Newcastle yesterday reclaimed their position back amongst the elite.
George Caulkin credits Chris Hughton for his efforts managing the Magpies this season. "Hughton, more than most, warrants credit for Newcastle's renaissance. Quiet and unassuming, his calming influence has helped heal a famously fractured club at the lowest point of their recent existence. By simultaneously soaking up pressure and repelling it, he has allowed players to coalesce around the remnants of relegation and provide the club with something rare. A team."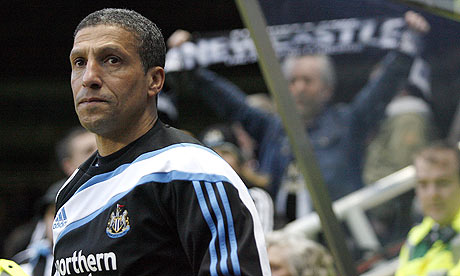 In a supplementary article George Caulkin assesses Newcastle's likely transfer policy this summer, given the impression that Newcastle have matured in their outlook to spending. "The club have already gone on record to say that their acquisition policy will be based on a preference to sign players who are 26 or under, for limited fees and with a potential sell-on value. Much tighter reins will be kept on their wage structure, too."
Yet just as the joy has come back to Tyneside but so have the doubters, and Louise Taylor leads the way with the negative outlook. "Will Hughton prove a strong enough man manager at the highest level? How might he invest an anticipated £20m transfer kitty? Then there are the question marks against certain players. If Enrique and Harper look genuine Premier League quality, Nolan, Smith, Carroll, Fabricio Coloccini and Jonás Gutiérrez could conceivably be found wanting once again at elite level. Moreover Taylor's expected departure must surely weaken the defence."
Benitez-bashing: Arguably adding two and two to get five, Henry Winter seems to go a step too far labelling Benitez's decision to sub Torres at Birmingham as a sign that his days are numbered at Anfield. "Whichever way Benitez's decision to remove Torres is analysed it lacks logic unless he is planning to leave this summer and wants to bow out with some silverware, however modest, that might be noted by a few European chairmen. In a period of flux among those below the Chelsea-Manchester United-Arsenal triumvirate, any failure by Liverpool to qualify for the Champions League has expensive short-term ramifications, notably the £30 million-plus cheque that now goes to a rival."
Swapping the pitch for the boardroom, Ian Herbert delivers the unsettling news for Liverpool fans that another investment opportunity appears to have fallen by the wayside. "A bid of £110m by New York-based fund management company Rhone Group to take a controlling share in Liverpool appeared effectively to have been rejected last night, with no sense that the club wished to pursue it ahead of a midnight deadline… The club seem to believe they can secure a better deal elsewhere… The
sticking point in negotiations with Rhone seems to relate to Liverpool co-owners Tom Hicks and George Gillett's refusal to cede overall control of the club."
Lastly on Liverpool, loudmouth Ian Wright advises Steven Gerrard to walk out of Anfield spouting a string of tired cliches to make his point. "Gerrard deserves better. Much better. He turns 30 at the end of next month. It's a milestone that is bound to make him take a long, hard look at himself and his career. I was Gerrard's agent I'd be demanding to know what is going on at Liverpool and thinking about getting him out before he is dragged down with them. The world's biggest clubs would be willing to pay top dollar to sign Gerrard. It would not be easy for the Scouse midfielder to leave as he has such an attachment to the club. And while I do not think he would disrespect the Kop by moving to a Premier League rival, I could see him in Spain with Real Madrid."
World Cup: Will Joe Cole make the England World Cup squad?
Weighing up the pros and the cons is Matt Dickinson. "Capello is understandably preoccupied with counter-attacking pace in his England midfield. Never quick, Cole, 28, is even less likely to leave full backs trailing after nine months lost to surgery. But another notable performance against Villa this weekend, particularly if he can look light on his feet on Wembley's stodge, would continue the shift in his World Cup prospects from possible to probable traveller to South Africa."
Transfer Lies: The Daily Mail give the impression again this Tuesday that they make up their transfer news as they go along.
In a classic DM no-name/no-accountability article we read "AC Milan are ready to drop their interest in Edin Dzeko, paving the way for the Wolfsburg hot shot to move to England. Chelsea and Manchester City are both interested in the Bosnia international… The Italian giants consider Dzeko's £25m asking price to be too high, though it is well within Chelsea and City's reach. Tottenham and Manchester United have also been linked to the 24-year-old… Milan are instead ready to look more to the future, with a £13.5m move for 16-year-old Anderlecht star Romelu Lukaku."
The Sun, however, prove that two can play at that game farting "Arsene Wenger is on the trail of Wigan's £10million-rated striker Hugo Rodallega."
---