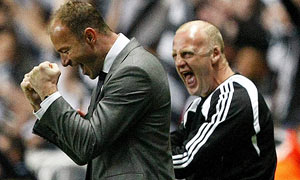 Comment & analysis round-up
Quote of the day: "Someone once told me it's better to be a lucky manager than a good one. I'd be a liar if I said I knew what impact Oba would have. He's a threat but I didn't expect him to score after 55 seconds. There were some big, big ­performances from big men tonight, they were ­brilliant. We were the better side. I told my players to enjoy that winning feeling because it's been a long time coming… It will probably go down to the last game of the season because Newcastle don't do things the easy way." – Alan Shearer.
Runner-up: "I wanted to get the feeling whether I can play in England or not. Sometimes I feel that I can but other times that I don't. It's probably because that I play as a left midfielder. I still can't get used to the idea that I'm capable of playing on the left of midfield – and frankly having to do it keeps me baffled. I don't understand if it's only because God is taking care of me, or I really can play so well as a left-winger." – Andrei Arshavin.
Today's overview: As Chelsea face up to the possibility of Carlo Ancelotti refusing to take the reigns at Stamford Bridge, while Manchester United wake up to rumours linking Carlos Tevez with Anfield, it is a great morning to be a Newcastle fan.
Poor Boro looked doomed to playing Championship football next term, and Kevin McCarra has little sympathy commenting "too much of this campaign has been conducted to the sound of murmured expressions of goodwill towards a team that does not make the smoothness count. Relegation seems unavoidable for them." This is in contrast to Henry Winter's glowing poetic analysis of Newcastle's temporary boss. "In Newcastle's darkest hour, one man spread light. Everyone expected Shearer to instill belief in the players, to have them at last playing with pride in the shirt. Few predicted that such a managerial apprentice could influence matches with masterly tactical tweaks."
For Martin Samuel, "Shearer must hope that what happened at St James' Park last night has reversed the natural order, that it has forged the confidence to surmount all obstacles and ripped the heart out of Hull City, who tumbled into the bottom three in Newcastle's place."
One Magpie who failed to earn his stripes though is Michael Owen. An unimpressed Louise Taylor noted "Owen's game requires a radical makeover, not to mention a possible re-positioning somewhere slightly deeper than the outright attacking role he occupied largely without distinction in a game Shearer had dubbed the biggest of his career."
Talking on behalf of the North-East, George Caulkin takes stock of a terrible year overall. "As Newcastle United and Middlesbrough debated the desperation derby, as Ricky Sbragia, the Sunderland manager, turned off his mobile phone in his local pub (which does not have a television), and a region held its breath, it was difficult to fathom quite how it has come to this. Disparate dreams, but collective ones, too, have fractured so quickly, so ruinously."
After several days out the headlines, the topic of Chelsea's next manager is once again put into print.
Dominic Fifield and David Hytner report how the Blues top target Carlo Ancelotti now looks set to rebuff the Blues' advances with an unappealing selection of Frank Rijkaard, Dick Advocaat and Roberto Mancini waiting in the wings. Matt Hughes carries the same story in The Times, noting "Ancelotti feels resentment over the way he was treated 12 months ago and will demand reassurances before committing himself." Chelsea also get it in the ear from Richard Williams this Tuesday, who rants that "Chelsea should be banned from playing in the Champions League next season after their players' poor behaviour."
Against the negativity, Matt Dickinson praises Didier Drogba in The Times. "Drogba is one of a handful of forwards in the world who can excel as a lone striker. He would walk into the England side… There is, perhaps, no single player in the Premier League who is more badly missed by his team when he is injured, or who can so effectively transform them when he returns. That should be acknowledged, even by those who long for his next dive in the Premier League to be his last."
Kevin McCarra tackles the balance of power in the Tevez-Manchester United saga, the scribe siding with the club as holding all the cards. "United's bargaining position is strong. They could flourish without Tevez, but he might dread what he was doing to his career by walking out on Old Trafford."
Oliver Kay looks at which clubs are in line to sign Tevez should he leave Old Trafford, arguing "Benitez is confident that Tevez could be tempted to Anfield by the presence of Javier Mascherano" while also pointing out how "[Man City] believe that they can offer Tevez a scenario in which he would be the leading player in a team who plan to be contenders in the Premier League next season." Throwing another name in the hat, Emily Benammar adds "Italian giants Milan are prepared to spend £40 million on securing the Argentine's services, based on a £20m transfer fee and a £20m, four-year deal."
Neil Custis then delivers the news that no Manchester United fan will wont to read. "Carlos Tevez wants to join Manchester United's fiercest rivals Liverpool. The news will anger Alex Ferguson, who has always refused to sell his stars to Anfield. But unless United make the Tevez loan move permanent, they will be powerless as the player is a free agent this summer."
Almost unbelievably, James Lawton manages to compare and contrast the tragic news of the murder of Wilson Palacios' brother to Cristiano Ronaldo's strop and Tevez's ear-cupping celebration. "Some Manchester United fans may also have noted a contrast between Palacios's control and the self-indulgent emotions of Cristiano Ronaldo and Carlos Tevez, who between them couldn't muster a fraction of the respect for their manager Sir Alex Ferguson that the man from Honduras gave to Redknapp each second he delayed his call."
Arsenal come in for some constructive criticism, Alan Smith arguing that the Gunners need their spine fixed. "When you look at the areas Arsenal need strengthening, a worrying reality immediately shows up. It's the spine of the team requiring urgent attention." Ian Wright goes one step further in The Sun, the columnist appearing to suffer from question-turrets. "Why hasn't he replaced Thierry Henry? Why hasn't he found someone to fill the huge gap left by Patrick Vieira? Why haven't Arsenal had a top-quality keeper since David Seaman hung up his gloves? And why doesn't he play Theo Walcott straight down the middle as the natural goalscorer Arsenal desperately need? "
Changing tracks, Henry Winter spells out some home truths to those trying to rejig the Premier League's concentration of wealth. "All these people, all these power brokers at Westminster, Soho Square, Nyon and Zurich, make hugely pertinent points about English clubs but their own credibility is often compromised. When it comes to moral high grounds, football is as flat as the Fens. In the land of a thousand agendas, none of the authorities can really preach with complete purity of intent."
As is standard on a Tuesday the Guardian have a top selection of articles on European football. Sid Lowe kicks things off with a column dedicated to Diego Forlan. "[Forlan] is single-handedly rescuing Atlético from ruin; that in a season when Sergio Agüero has only occasionally repeated last season's wonderful form, he's the leader – dragging a disastrous side towards the Champions League."
Heading to Italy, Paolo Bandini reads the riot act against AC Milan flagging up "[Clarence Seedorf's] lethargic performances in which he gives the ball away with alarming frequency. Ronaldinho has failed to live up to expectations and could be moved on… [and] most worringly, the team continues to rely far too heavily on Kaka, and it is not inconceivable that he could be on his way to Real Madrid this summer."
On the Bundesliga, Raphael Honigstein reports on "the untimely announcement of Felix Magath's exit has plunged Wolfsburg into a crisis at the worst possible time of the season." Finally, all Eredivisie enthuiasts are encouraged to read Leander Schaerlaeckens' team of the season.
We end with today's transfer lies.
Tony Banks splashes with the fable that "Jose Mourinho is preparing a stunning £55million double swoop for Cesc Fabregas and Mikel John Obi." The Obi Mikel-Inter link is strengthened however by Andrew Dillion in The Sun ("Mourinho is poised to make a £15million raid for Chelsea's John Obi Mikel.")
The Daily Mail begin picking apart the Boro team writing that "Stewart Downing has emerged as the preferred choice to solve Rafa Benitez's need for more width and will be the subject of a £12m bid by Liverpool at the end of the season." However one player who is doubtful to move is Bolton's Gary Cahill, the Daily Express reporting that "Gary Megson has slapped a £20million price-tag on Bolton defender Gary Cahill in an attempt to scare off Arsenal."
Finally, Jeremy Wilson reports that "David Moyes is close to finalising his first transfer deal of the summer after reaching an agreement with Hamburg to sign highly-rated teenager Shkrodan Mustafi. The 16-year-old defender is poised to sign a three-year deal at Goodison Park despite the Bundesliga side's attempts to keep him."
Click here for more Premier League betting tips
---