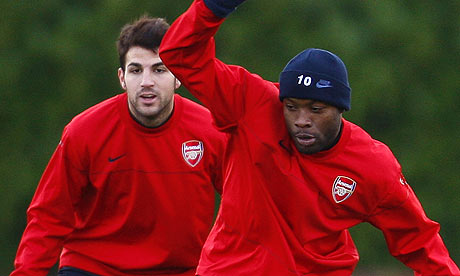 Comment & analysis round-up
Quote of the day: "Why are there no people from the English Asian communities playing in football? Do their parents feel the stadiums are unsafe? Role models like John Barnes have made the situation better but everybody, English, French, Croatians and Spanish, needs to ask themselves what their view on racism is and what role they play in racism in society. Silence is dangerous. We must keep talking about it, particularly with the risks from the economic recession. It's not enough for the English just to denounce the Croats and Spanish as racist and say racism doesn't exist in England. It exists. We live in a society that judges by the colour of the skin and that comes from colonial times. In 1885, the European powers (Britain, France, Italy and Germany) signed the Treaty of Berlin and carved up Africa, and said 'the white race is superior and we are going to educate the inferior black race'. That's the basis of prejudice today." – Lilian Thuram speaking to Henry Winter.
Runner-up: "William is a player I rate and a man I rate as well. I have a big respect for him. He was working as a captain. He was in a very different media environment, under big pressure from the press, and you do not want this high pressure to affect him or the team. He is a player who is committed to the club. He took to heart all the problems of the team. This can be a new start for him and he can be stronger as a player." – Arsene Wenger.
Today's overview: Arsenal have moved quickly to resolve the William Gallas situation, appointing Cesc Fabregas as their new captain, yet the papers continue to be unconvinced of Arsenal and Wenger's future this Tuesday.
Calling him a "natural choice," Dominic Fifield hopes that Cesc Fabregas' appointment as the new Arsenal captain will deter the midfielder from heading to Barcelona. Reflecting on Cesc's tender age of 21, Tom Dart commented that "if the 31-year-old Gallas is capable of behaving childishly, then there is no reason why Fabregas should not be able to act wisely." Kevin McCarra chips in with his belief that "there is a need now for adjustments to [Wenger's] philosophy" in which new signings are needed at the club. And on possible recruits, Nick Spencer (showing why he is not a scout) compiles a list of proposed January targets for the Gunners, including Sylvain Distin, Micah Richards and Arda Turan.
Jason Burt is unwilling to accept that all is now rosy at the Emirates, pointing out that the Arsenal "dressing room [still has] three fairly unpopular figures in its midst: Gallas, Robin van Persie and Nicklas Bendtner." However Mick Dennis looks to silence calls for Wenger's head, writing "sacking Wenger is the daftest idea ever proposed in a game which has an alarming propensity for doing barmy things. But rather astonishingly and reprehensibly, it is not just a recent suggestion."
Leading the boo-boys, Stan Collymore argues "Arsenal's campaign has been nothing short of a disaster this season. And Wenger is to blame." Picking up on the negative vibe, Jeremy Wilson speculates that "the unthinkable no longer looks impossible" suggesting the Gunners could miss out on a Champions League spot. And playing the role of the grim-reaper, Tony Cascarino delivers his usual stinging critique of the situation at Arsenal – "A new captain? Irrelevant… There are no outstanding leaders at Arsenal, no personalities big enough to lift the team to where they need to be."
Turning focus on Blackburn, Matt Dickinson is fearful that Paul Ince is on his last legs and should he be fired "he will be untouchable in much the same way that John Barnes was after briefly and disastrously trying his hand in management at Celtic."
In other Premier League news, Ian Herbert reports that Manchester United are closing in on Partizan's Zoran Tosic, while Ian McGarry reports that "[Manchester] City are willing to pay Chelsea £20m [for Ashely Cole] and will offer him a £130,000-a-week deal to move to Eastlands." And in a statement made from the heart rather than the head, Harry Redknapp is "tipping a Portsmouth win" against AC Milan in the UEFA Cup.
The Guardian have their weekly round up of European football. On Italy, Paolo Bandini celebrated Inter's win over Juve claiming Mourinho has found a "sense of togetherness" at the Nerazzurri. Raphael Honigstein writes an excellent analysis of Stuttgart's dismissal of boss Armin Veh, drawing attention to the German maxim "Nach dem Spiel ist vor dem Spiel," explained as "Germany is a place where World Cup or European Championship winners cannot dine out on former glory forever." From La Liga, Sid Lowe doffs his cap to Valladolid who "won their first away match and, better still, inflicted Villarreal's first defeat this season… even making Marcos Senna look average."
Click here for more Premier League betting tips
---