Zlatan Ibrahimovic & Kim Kallstrom go all acrobatic in Sweden training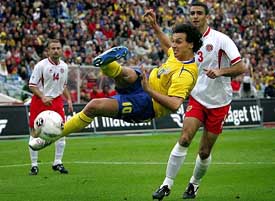 During these days of international football, many of the videos floating around show various national teams training ahead of their games (for example: Spain warming up in La Bombanera).
Usually these clips simply consist of the international stars taking it fairly easy, so praise must go to Sweden for mixing things up ahead of their expected mauling of San Marino this evening in a Euro 2012 qualifier.
Fans were allowed in to watch Sweden's biggest stars take each other on in a game of "Foot volley" and the likes of Zlatan Ibrahimovic and Kim Kallstrom did not disappoint with some impressive bicycle kicks.
Arguably, Kallstrom's overhead kick was more impressive than Zlatan's -Â a player known for his acrobatic ability that is likely to light up the San Siro this season.
Kim Kallstrom's overhead kick during Sweden training.
Zlatan Ibrahimovic's overhead kick during Sweden training.
And finally, a look at Ibrahimovic's darker side as he takes his frustrations out on the Foot volley net.
---