You've gotta be joking: The Star link Man United & Real Madrid with Rooney-Ronaldo swap
Wayne Rooney's face continues to be splashed across the backpages of the tabloids on Sunday as the Star claim a sensational, never-gonna-happen story.
According to the red-top, Manchester United and Real Madrid are considering swapping Wayne Rooney and Cristiano Ronaldo after bookies William Hill "dramatically slashed the odds on Rooney joining the Spanish giants."
The Star on Sunday title their pie-in-the-sky piece: £90m Roo-Ron Swop.
This is the second day in succession Rooney has been linked with amove out of Old Trafford after the Star and the Mirror linked the England international to Arsenal and Chelsea on Saturday.
The sense prevails that the tabloids are trying to get as much mileage out of potential, unsubstantiated Rooney-to-be-sold stories before David Moyes sits down with his centre-forward next week. Until the former Everton duo meet, speculation seems certain to be rife that Rooney could leave the Theatre of Dreams sooner rather than later.
A copy of The Star's backpage on Sunday can be seen below.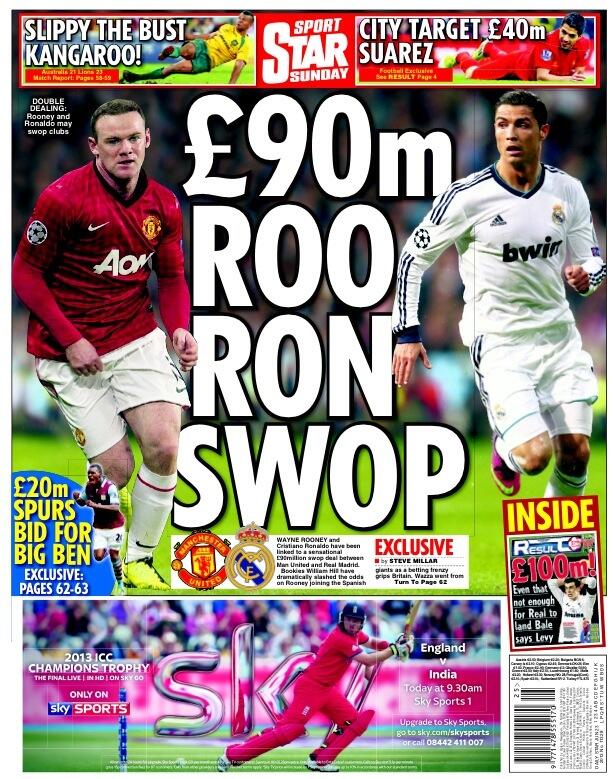 ---