You Filthy Fouler! Marcin Wasilewski (Anderlecht) vs Peter Delorge (Sint-Truiden)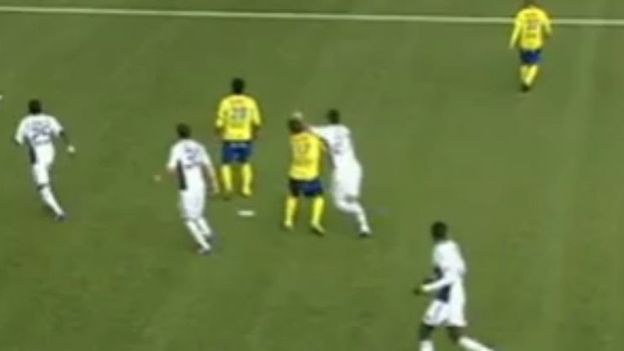 "I know how it feels to be a victim of such aggression. I am very sorry." – Marcin Wasilewski.
"His apology means nothing. All the time I remember how he ran at me without even looking at the ball… Wasilewski wanted to hit me… I was unconscious for three minutes. I did not feel the arms and legs. Luckily all I got was a broken nose." – Peter Delorge.
"For the good of football Wasilewski should be suspended for at least eight games. His behavior was outrageous. It reminded me of Mike Tyson!" – Sint-Truiden driector Jan-Pieter Martens.
***
As the referee and his linesman missed the incident on the pitch, Belgium football needs to wait until April 3rd to see what punished will be doled out to RSCA defender Marcin Wasilewski.
The Pole is currently enemy number one in the Jupiler League after his off-the-ball assault on Peter Delorge last weekend.
To dredge up an old WWF comparison, Wasilewski took on the persona of The Narcissist Lex Luger (famed for knocking out opponents with the supposed metal plate inserted into his forearm) as he aggressively and unnecessarily mowed down Delorge during a corner.
Such was his impact and force, Wasilewski left Delorge spinning in the air before crashing to the deck in one of the worst fouls of the Flemish season.
Watch Marcin Wasilewski's vicious assault on Peter Delorge here.
---