Xabi Alonso from Liverpool to Real Madrid: Could one transfer decide the outcome of the world's top two leagues?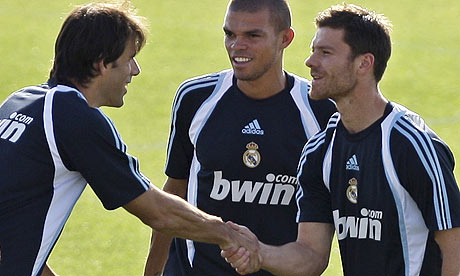 (By Hugo Saye)
Very few in Liverpool colours did anything to cover themselves in glory on the opening weekend of this new Premier League season. Indeed, if a newcomer to English football had been at White Hart Lane on Sunday and was then asked which side he thought was being widely tipped for the title, he certainly would not have chosen that of the famous red.
By contrast, it was a showing that could only enhance the reputation of the club's recently departed midfielder Xabi Alonso. His absence left Liverpool looking devoid of imagination and incision when compared to recent seasons, and proved that his comparatively sober acquisition was quite possibly the most important of all in Real Madrid's madcap summer.
Before continuing let us first clear up a commonly held misconception about the Spaniard: he is not a defensive midfielder. His positioning just in front of the defence coupled with this country's unwieldy approach to certain subtleties of the game have led to him often being cast as such, but his role in the team is primarily offensive.
A defensive midfielder's main purpose is to act as a breakwater, disrupting and ideally stopping the attacking movements of the opposition before they can reach the back line and cause any real worry. His weapon of choice is the tackle. Alonso sits in a similar position but he is principally there to set up and orchestrate his own team's attacks, not destroy those of the opposition.
He is an example of what the Italians, with their superior footballing lexicon, term as a "regista": a deep lying playmaker, of which Milan's Andrea Pirlo is another example who has hit the transfer rumour headlines recently. His weapon of choice is the pass.
And it is precisely this creativity which Liverpool seemed to be lacking against Tottenham on Sunday. Their supporters will say they had two decent penalty appeals turned down and if the decisions had gone their way they could have won the match, but this would have papered over the cracks, not a well deserved victory.
Certainly they have other midfielders of a very high calibre such as Javier Mascherano and the newly signed Alberto Aquilani, but the weakness is still there. What is really worrying for Liverpool is the amount of times Steven Gerrard had to drop deep. Devoid of the service Alonso used to provide him, Gerrard often had to fall back himself in order to pick up possession, thus vacating the area "in the hole" in which he was so destructive last season.
Of course the knock on effect of this is that Fernando Torres too becomes markedly less dangerous as the lethal partnership he and Gerrard had formed last year is disrupted. Over the last season or two Torres has become the finest striker in world football but this weekend he looked lost, tired and too frequently isolated.
Aquilani should eventually go some way to solving the problem but by the time he has regained full fitness and sufficiently adjusted to not just the Premier League but also Liverpool's play to the extent where he can actually dictate it- and a generous guess would probably put this around January at the earliest- they could already be out of the race for their first title in 20 years.
And so to Spain, where Real Madrid president Florentino Pérez has spent the last two months spending unthinkable sums on some of Europe's most exciting talent. But behind the glamour of Kaká, Cristiano Ronaldo and Karim Benzema, the most important signing could well be that of Alonso.
For around £30 million Pérez has got himself the player to conduct his mercurial forward line, the player Manuel Pellegrini needed to oil the machine and make the new Galacticos function as a team. It is questionable whether Real's Rafael van der Vaart and Wesley Sneijder had the discipline or ability to do the job of playmaker to do those superstars justice, Alonso has both.
Without him there was a danger of the house that Pérez built looking beautiful but ending up largely bare inside, with him they should be going toe to toe with Barcelona in a bid to furnish it with silver. Whether they quite have Barça's number yet is debatable, but it's going to be a wonderful season as we find out. 
What looks certain though, as Spain and England look forward to fresh campaigns, is that the transfer of Xabi Alonso could play a large role in the outcome of the world's top two leagues.
Best football betting tips & free bet offers
Click here for more Premier League betting tips
---