Worst. Rule. Ever. Cristiano Ronaldo booked after scoring 94th minute winner for Real Madrid at Levante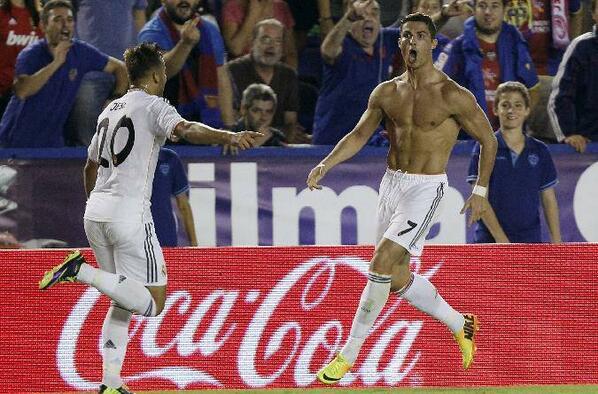 Regular readers of 101 will know we have had a bugbear for years about what we consider to be the most ridiculous rule in modern football.
Cristiano Ronaldo was the latest to come a cropper on Saturday night after his 94th minute winner for Real Madrid at Levante.
Even in October, this was an absolutely massive goal for Ronaldo, Carlo Ancelotti, Real Madrid and indeed the La Liga title race.
As it stands this morning, Real Madrid are five points behind a rampant Barcelona. Had they only drawn 2-2 at Levante then a seven point gap, at this early stage of the campaign, could have been considered insurmountable for Los Blancos.
We surely do not need to impress on you the importance of this goal. And, Ronaldo joins a growing list of players booked for taking their shirt off in the euphoria of scoring a major goal.
After all, isn't the point of football to score?!
You almost feel sorry for referee Jose Gonzalez who has to hand out the yellow card to Ronaldo amongst the delirious Real Madrid players.
What should surely grate for many is that the shirt removal rule was brought in to ensure sponsors names' remained front and centre.
Yet, what Ronaldo did for the La Liga title race and those that wish to advertise on the front of football kits could well be immeasurable in 2013/2014.
---