Why Robin van Persie will finish as top goal scorer at the World Cup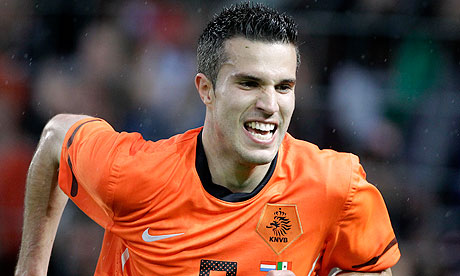 Complete odds for World Cup top goal scorer can be seen here.
In the history of running this betting tab on 101gg, our most successful bet has undoubtedly been tipping Marcus Berg to finish as top goal scorer in last year's UEFA Under-21 championships. The Swede was 25/1 and we made a hefty profit which we have squandered countless times since. (See this article for proof).
The upcoming World Cup features some of the most exciting talent in football history. Potential all-time greats Lionel Messi and Cristiano Ronaldo lead the way but there are goal scorers wherever you look. There are though countless reasons to ignore many of the favourites.
Spain pair David Villa (10.00) and Fernando Torres (12.00) face a relatively easy group against Switzerland, Honduras and Chile but they will share the goals between each other and the rest of a very talented side. Many will cite the fact that Villa finished Euro 2008 as top goal scorer but this was with a measly four goals and Spain's record at World Cups is poor.
Second favourite Lionel Messi (11.76) will also receive a lot of backing. "The Flea" has been the best European-based player over the last two seasons and should rip the defences of Nigeria, South Korea and Greece to shreds in Group B.
But, Messi isn't playing for Barcelona at the World Cup and is featuring instead for Maradona's Argentina. Besides their unpredictable coach, Messi has failed to replicate his club form at international level and he could well be the player who provides the most assists rather than scores the most goals. Gonzalo Higuain at 19.00 may be a better bet whilst Diego Milito, who was incredible for treble winners Inter Milan, is priced at 33.32.
Of course, many will place a punt on Wayne Rooney (12.00) so this seems like a pertinent time to point out that the Manchester United striker has not scored for England in his last five appearances. Wazza was a picture of frustration in the last two friendly games against Mexico and Japan and could well pick up a crucial red card as he did against Portugal in 2006.
A number of the other heavy hitters come from "The Group of Death." Luis Fabiano (13.00), Cristiano Ronaldo (17.00) and Didier Drogba (21.00) will all have a hard time to bang in the goals in Group G except for their games against North Korea. And one could also argue that Luis Fabiano struggled for form in the second half of 2009/2010, Liedson is a better bet than Ronaldo for Portugal as he leads the line and Drogba may well set up a lot of goals for the likes of Gervinho and Aruna Dindane.
Which leaves us with a number of also-rans (according to the bookies) and Arsenal striker Robin van Persie is well placed at 22.08. Due to his ankle injury last November it has been forgotten just what great form RVP was in before his lengthy lay-off, for the record he had scored seven goals in eleven Premier League games before he succumbed to injury playing for Holland in a friendly against Italy.
The Dutch hitman has also shown admirable recovery powers since returning to action in April. Van Persie scored in Arsenal's final two Premier League matches and also claimed an excellent brace against Mexico last week. He has looked in great nick in recent weeks and will be eager to prove himself and should have the legs to do so after an extended absence as opposed to many who will turn up in South Africa after long hard seasons.
Holland face a very winnable group against Denmark, Japan and Cameroon and Bert van Marwijk's side are shaped around Van Persie. Flanked by Wesley Sneijder, Arjen Robben and the selfless Dirk Kuyt, the Arsenal hitman can't fail to bag the goals in South Africa.
In recent seasons Van Persie has visibly improved his right foot which allied to his stunning left means he can score with both feet (see his double against Mexico). He can also score headers, as he did against Blackburn in the penultimate Premier League game of the season and with two of Europe's form players in Sneijder and Robben backing him up he should be presented with plenty of chances.
Of course, betting on top goal scorers has a large element of risk, injury or poor form can hit any player, even if their name is Lionel Messi or Cristiano Ronaldo. The bottom line though is that the bookies are seriously undermining the goalscoring prowess of Robin van Persie and you can make a nice tidy profit.
You're welcome…
101gg predicts: Robin van Persie to finish as top goal scorer in the World Cup (22.08).
---
GAMBLING CAN BE ADDICTIVE, PLEASE PLAY RESPONSIBLY