Why Always Mario? Manchester City striker Balotelli opens up to Time Magazine (video)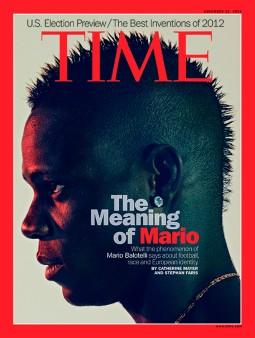 (Super) Mario Balotelli may have played a bit-part in Manchester City's season so far but the highly respected Time Magazine have placed the Italian striker on the front cover of their international edition.
Incredibly, this comes just days before the US election, which is a powerful sign of just how obsessed the world is with Balotelli.
The lengthy article (titled "Why Always Mario") from Time magazine can be read here and there is also a 7- minute video of Balotelli discussing a range of topics, which can be seen below.
In the video below Balotelli discusses his famous goal and T-Shirt celebration during Manchester City's 6 -1 win at Manchester United.
Balotelli then picks his top three goals, his favourite moments in football, the love for his foster parents and racism generally and in Italy.
The Time interviewer also questions the Manchester City striker about Barack Obama being the president of the USA and what its like to live in England with such poor weather.
They also discuss Balotelli's relationship with Manchester City manager Roberto Mancini who he describes as like a "father". Transfer gossips may also be interested in Balotelli confirming that he won't stay at Manchester City for ever.
Finally, Balotelli explains who his heroes are and Super Mario gives his thoughts on how he is covered in the tabloid press.
---
GAMBLING CAN BE ADDICTIVE, PLEASE PLAY RESPONSIBLY