Where's the consistency? Nani got sent off for Man United, Benzema got nothing for Real Madrid
Another round of Champions League matches, another opportunity to question refereeing consistency in the premier club competition in world football.
Earlier in the competition, Manchester United's exit from the Champions League at the hands of Real Madrid in the last 16 was cemented by a controversial red card to Luis Nani.
To recap, Nani was served with an instant dismissal for a high tackle on Alvaro Arbeloa despite most observers agreeing that the Portuguese forward had no malice or intent to cause harm to the Madrid fullback. In short, most felt Nani's dismissal was harsh.
The harshness of Nani's dismissal was again sharpened on Wednesday night when Karim Benzema got off scott-free for a similar sort of tackle against Galatasaray.
The French striker planted a high boot in the face of Gala defender Semih Kaya during the first half which left the Turk holding his face in agony.
Benzema's foul was undoubtedly reckless, and it could easily have got the Madrid attacker in hot water. Yet it didn't, and Karim walked away without even getting a booking.
Where's the consistency?
Picture and video footage of Karim Benzema's poor tackle against Galatasaray can be seen below.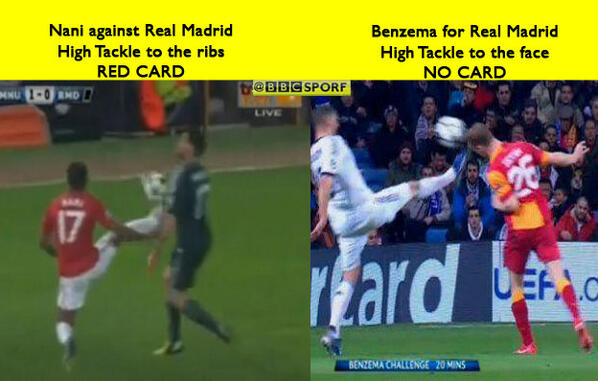 ---
GAMBLING CAN BE ADDICTIVE, PLEASE PLAY RESPONSIBLY