Where is the pre-season Gareth Bale? Real Madrid teammates bothered by his selfish play [El Dia Despues]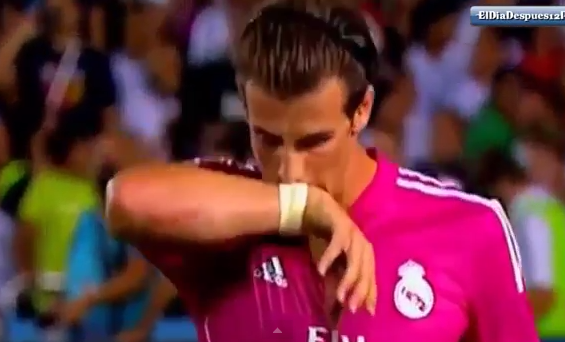 Gareth Bale's been something of an enigma for Real Madrid this season: 5 goals and 3 assists; his numbers point to a player in top form.
But the numbers are masking the reality of Bale's deficiencies: a total lack of interest in defending, and an increasingly selfish style of play, almost as if he's trying to become a clone of Cristiano Ronaldo, and evolve into an out and out goleador.
It's become an issue within the Madrid media, and the radar is beginning to focus on the Welshman.
Canal+ show El Dia Despus (The Day After) ran an analysis of the Bale Enigma today, wondering: 'Where is the amazing Bale from pre-season? Bale rocked up to pre-season looking like a brick shithouse, appearing to have gained a good 10 kilos in muscle, but since then he seems to have lost some strength and stamina.
El Dia Despues also remark that his Madrid teammates are becoming bothered by his selfish play, and have made it known to him on the pitch.
The numbers will only protect Bale for so long; he's going to need to work the defensive side of his game in order to appease the Madridistas.
Best football betting tips & free bet offers
Click here for more Premier League betting tips
---