What is the best first touch you have ever seen? A top 10 list…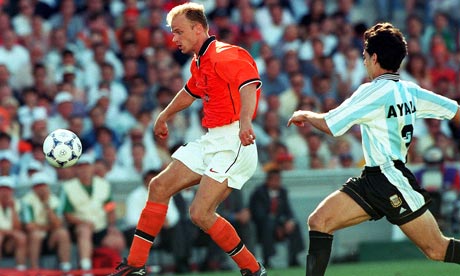 There were many gasping in wonder on Tuesday night, as Olivier Giroud plucked the ball out the air for Arsenal's second goal against West Ham.
For a spell on social media, "Bergkamp-esque" was used by all and sundry, which for an Arsenal striker is about as high praise as you can get.
So, we asked our Facebook and Twitter followers, what is the best first touch you have ever seen and it brought some interesting responses.
Dennis Bergkamp, Dimitar Berbatov, Roberto Baggio, Ronaldinho, Rivaldo – its basically a list of some of the classiest forwards to ever grace the game.
Here is a top 10 list from the feedback we received. Feel free to disagree/add to the debate in the comments.
Videos are in chronological order…
Alex Del Piero (Juventus) v Fiorentina, 1994
Dennis Bergkamp (Holland) v Argentina, 1998
Rivaldo (Barcelona) v Deportivo La Coruna
Roberto Baggio (Brescia) v Juventus, 2001
Dennis Bergkamp (Arsenal) v Newcastle, 2002
Ronaldinho (Flamengo) v Fluminense, 2011
Luis Suarez (Liverpool) v Newcastle, 2012
Mesut Ozil (Real Madrid) v Barcelona, 2013
Dimitar Berbatov (Fulham) v Aston Villa, 2013
Lionel Messi – on lots of occasions!
Click here for more Premier League betting tips
---