Wengerball! All 21 passes for Serge Gnabry's Arsenal opener v Swansea [video]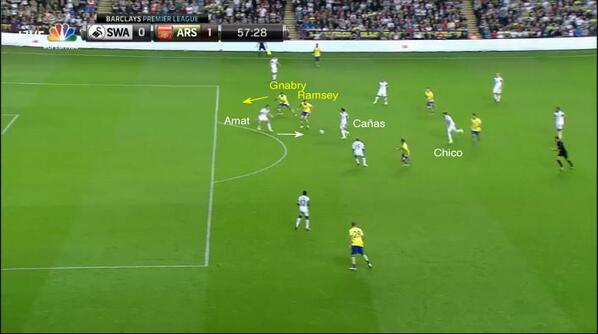 It has been some week for Arsenal youngster Serge Gnabry.
The 18-year-old came in for Theo Walcott in Arsenal's win over Stoke last Sunday, then played 120 minutes in the penalty shot-out win over West Brom before claiming his first goal against Swansea on Saturday.
Arsene Wenger's promotion of youth appears to be paying off in the form of Gnabry who was mature throughout against Swansea and is making light of injuries to the likes of Walcott, Lukas Podolski and Alex Oxlade-Chamberlain.
Arsenal's opener at the Liberty Stadium was also Tiki-Taka football, or Wengerball as Arsenal fans like to call it, at its best.
In total, 21 passes were completed and it was an excellent move which can be seen in full on the video below.
Related link: Arsenal's Aaron Ramsey keeps up his recent goalscoring exploits, finishing a beautiful tiki-taka move.
---
GAMBLING CAN BE ADDICTIVE, PLEASE PLAY RESPONSIBLY