We'll sing what we want! Spurs fans roll out the Yid & Yiddo chants during Norwich win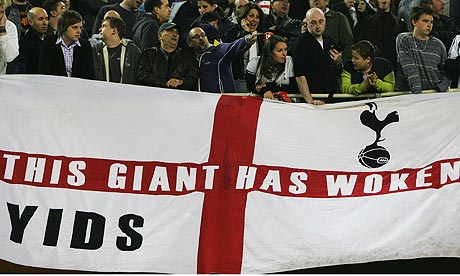 By all accounts it took just three minutes for White Hart Lane to reverberate on Saturday afternoon to chants of "Yiddo," "Yid Army" and "we'll sing what we want!"
To recap, last week the Football Association warned that any fan chanting the word "Yid" could face criminal charges.
The Tottenham Hotspur Supporters Trust summed up the thoughts of many Spurs fans immediately after the FA's ridiculous announcement, publicising the fact that the north London side are actually bringing out a positive connotation to the word "Yid."
For a few years now, there has been a campaign against the "Y-word," with many high profile people in Britain, such as David Baddiel, unaware that it is not fans of Tottenham that should be educated but rather those supporters who denigrate Jewish people from the likes of Chelsea and West Ham.
Tottenham fans have embraced the name "Yids" or "Yiddos" and it impossible to see Spurs fans give up this moniker having brought a positive connotation to a chant that had been used against them.
How do you stop 36,000 people singing "Yids" and "Yiddo" at a football stadium? On Saturday, no action was taken and it should be noted that the match was played on Yom Kippur, the holiest day of the Hebrew calendar, which meant a proportion of Jewish Spurs fans would not have been at the game.
Christian Eriksen's departure from the fray against Norwich was greeted with "Yiddo" chants, as can be seen and heard on the video below.
---