Wazza on the razza, Anderson cheats death & the battle for ownership of Liverpool returns
Comment & analysis round-up
Quote of the day: "Ashley Cole is a Chelsea player and he will remain a Chelsea player. Everyone can forget the idea he will leave this club. There is no way that will happen. We believe he is the best left-back in the world and because of that he'll stay. There is no price that will make us sell… It is only normal that Mourinho has a good relationship with Ashley. But I'm not interested in the relationship any of my players have with other coaches. Cole is staying." – Carlo Ancelotti.
Runner-up: "At 18 years of age you can have patience with a player, but I believe Wilshere is stronger than last year, the few months he played at Bolton has definitely given him something. He will be used by us [next season] for sure… For [Euro] 2012, he will be 20, that is a good age, so he cannot be ruled out for England." – Arsene Wenger.
David Moyes claims poverty: "We'd love to have Landon but he looks too expensive for us and we just don't have it, we don't have the finances. The price they want for him is very big and it's an additional problem because of his age. All we've done is spend £1m on [new signing] Magaye Gueye so far. Jermaine Beckford and [the Slovakia goalkeeper] Jan Mucha were free, so we've spent no money by Premier League standards and will probably be the ones who spend the least this season."
Today's overview: It is a real mixed bag this Monday morning with events off the field dominating.
The Sun lead with Wayne Rooney's boozy night out and a number of papers report on Anderson's near fatal car crash. The other main news story surrounds a mooted takeover of Liverpool, more than likely as a result of the hacks looking to sell their papers.
Elsewhere there is praise for Arsenal's Young Gunners, an interview with Gareth Barry and a smattering of transfer gossip, including Peter Crouch put up for sale by Spurs and Aiden McGeady heading to Spartak Moscow.
Finally, The Daily Mirror start serialising Robbie Savage's new autobiography.
Wazza on the razza: The lead story in The Sun reports "Relaxed Wayne Rooney partied until dawn – smoking, chanting footie songs and urinating down a wall near a bottle bank. The £140,000-a-week Man United striker and wife Coleen stepped out with pals to spend a night on the razzle at a Manchester city centre bar. And as some Red Devils team-mates completed rigorous pre-season fitness tours, Wayne painted the town red, staying at the venue until 5.30am yesterday, when he emerged singing raucous football songs in the street. Meanwhile Coleen wore a disapproving expression as she barked at her millionaire hubby to climb into a waiting taxi." The Daily Mail have similar snaps from the Rooneys night out, but concentrate on Coleen's earrings.
Also on Rooney, Chris Wheeler reports "Wayne Rooney will play for the first time since England crashed out of the World Cup against Germany five weeks ago when Manchester United face an Irish League XI in Dublin on Wednesday. Sir Alex Ferguson had earmarked the friendly, which opens the city's new Aviva Stadium, as a chance to give his World Cup contingent their first pre-season run-out. And Ferguson confirmed on Sunday that Rooney will be in the squad alongside Javier Hernandez, Michael Carrick, Nemanja Vidic and Ji-sung Park, while Antonio Valencia is also expected to return after an ankle injury."
Anderson cheats death: A number of papers report on how Anderson was involved in a car crash in Portugal.
The Sun: "Manchester United star Anderson was recovering last night after being dragged unconscious from the burning wreckage of a sports car, seconds before it exploded. The 'lifeless' Brazilian international, 22, was pulled to safety after the £125,000 Audi R8 car hit a wall in Portugal. He had been recuperating after treatment to a knee injury. He is said to have spent several hours in hospital with "concussion, whiplash and shock".
Daniel Taylor adds "According to local reports, the 22-year-old Anderson, increasingly becoming renowned for his partying lifestyle, had spent the night at the Sardinha Biba nightclub before leaving in a £125,000 Audi R8. The crash occurred at 7am when the high-powered car came off the road and hit the wall of a farm before flying into a field. Although the French-registered car was a two-seater, Anderson had two companions – a friend, whose name was given only as Victor, and a young Brazilian woman, whose details have not been released. It is unclear who was driving but there were unconfirmed allegations it could lead to a drink-driving charge and a possible offence of allegedly having excess passengers. Manchester United were unavailable for comment tonight."
Liverpool takeover?: Rob Calladine reports "The battle for ownership of Liverpool has returned to the spotlight with reports that the Chinese tycoon Kenny Huang is in negotiations with Royal Bank of Scotland to take control of the club. Huang, who is partnered by one of the biggest sovereign wealth funds in the Far East, is determined to seize control before the transfer window closes at the end of the month, according to the Times. The current owners, the Americans Tom Hicks and George Gillett, took over little more than three years ago but put the club up for sale in April and appointed Martin Broughton, the British Airways chairman, to oversee any deal."
Ian Herbert puts the Chinese takeover in perspective with Fernando Torres' return to the club today. "Fernando Torres returns to training at Liverpool today with the club poised on the brink of a controversial hostile takeover bid by a Chinese businessman, which may profoundly affect the player's thinking about his future. Kenny Huang, who is believed to be backed by Chinese state-owned investment funds, first approached Liverpool during the World Cup to indicate that he was making his bid and to say that players such as Torres should be aware of the potential investment before deciding on their futures. Torres was briefed on the approach some time ago and will be encouraged, on his return to Melwood to await the outcome of discussions between the tycoon and Royal Bank of Scotland."
Chris Wheeler puts a spanner in the works: "There are growing concerns at Anfield that Liverpool co-owner George Gillett is trying to slow down a takeover that falls short of his £600million valuation, by drafting in rival bidders. Gillett is worried that the Royal Bank of Scotland (RBS), which is owed £300m by the club, are holding talks with potential buyers who would give him a smaller return on his investment. Middle East businessman Yahya Kirdi re-emerged as a potential investor yesterday for the second time in four months and is said to be the American's preferred option. The former Syria football international, who claims to represent a consortium of wealthy Arab businessmen, is reported to have been introduced to senior figures from Anfield and RBS."
Joe Cole reflects on the defeat to Borussia Monchengladbach. "Nobody is firing on all cylinders yet but there were some good moments. The main thing we take out of it is the shape of the team and the organisation, which was good. It was a good workout. It was hot day and pre-season is always difficult. There were no injuries, so everything went well. We have looked solid in all the pre-season games and we can build on that. We lost the game but the young lads who were playing got some good experience. While it's good to do lots of training, you need as many games as you can get and I am so glad I got through the 60 minutes."
Arsenal: Nick Szczepanik praises the Young Gunners display against Celtic at the Emirates Cup yesterday. "One school of thought is that Fabregas should be allowed to leave, thereby removing all further distractions, and giving Wenger money to spend. Wenger, however, would probably then opt to give Alexandre Song, Denilson and Abou Diaby – all missing yesterday – further chances to show what they can do. Those three will now be looking over their shoulders at Jack Wilshere and Emmanuel Frimpong, both 18, who have excelled in pre-season and did well again for 70 minutes yesterday."
Manchester City: Ian Ladyman speaks with Gareth Barry about the pain of England's World Cup campaign. "Sitting here now I have still not got over it. You try to go away and get away from it but wherever you are people ask you about it. It's a big deal. I still feel it. It hurts inside. The World Cup comes around only once every four years and it's the biggest competition in sport. 'It gets the attention it deserves and if a country fails it gets the negativity and media attention is deserves. The players know that. We are not complaining."
The Daily Mirror run a ridiculous story on Carlos Tevez. "Manchester City are anxiously waiting for Carlos Tevez to turn up for training today – with Jose Mourinho's Real Madrid lurking in the wings. The Argentine striker is due to return to City after missing the end of their winless North American tour, with some of his team-mates puzzled he needed an extended break. Tevez admits to being depressed after Argentina crashed out of the World Cup and confesses he is finding it hard to get up for another Premier League season, possibly pointing the way towards the exit door. Real have been trying to tee up a £40 million move for Tevez for weeks. His relationship with Roberto Mancini has not been the best and the Spanish giants have left a hole in their attack he could fill."
Fulham aiming to bring down Dave Richards: The Sun continue to plug their fight to oust the Premier League chairman. Mark Irwin: "Fulham are planning to use comments from Spurs boss Harry Redknapp in their fight to bring down Premier League chairman Sir Dave Richards. The Craven Cottage club are seeking to take legal action against Richards after missing out on Peter Crouch last year. They believe Redknapp's comments back their claim that Spurs were out of the running for Crouch until Richards got involved. Fulham say they had agreed an £11million deal with Portsmouth for Crouch and were stunned when he signed for Spurs for £9m."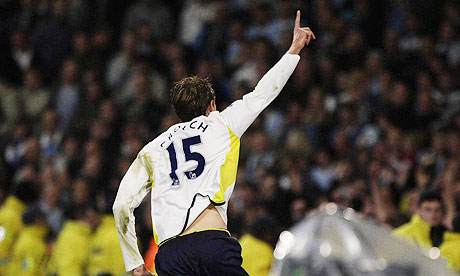 Peter Crouch heading out of Spurs: Alan Nixon reveals in the Daily Mirror "Harry Redknapp is ready to sell Peter Crouch as he gears up for some major wheeler-dealing at Tottenham. The White Hart Lane boss is looking to shake up his attack and would sacrifice the England striker for around £7million if he can find a quick replacement. Crouch has followed Redknapp to many clubs and been bought and sold several times by him, but this latest ­potential exit will come as a surprise to him. Redknapp is looking for more strength in his attack and insiders reveal Crouch was being teed up for a sale to Fulham before manager Roy Hodgson left for ­Liverpool."
Transfer gossip: The Sun run with some varied stories, including Aiden McGeady heading to Spartak Moscow, Steve Sidwell's move to Fulham may be scuppered by Mark Hughes and Deniz Yilmaz has begged Bayern Munich to let him join a Premier League side.
The Guardian reveal that Joe Hart is open to a loan move to play first team football. The Daily Mail suggest Tom Cleverley is heading to Newcastle on loan and Olympiakos are after Roque Santa Cruz.
The Daily Mirror claim Birmingham want Moussa Dembele and Charles N'Zogbia, Hull want to sign John Bostock on loan and Stoke have told James Beattie that he has a future at the Britannia.
The Daily Telegraph report that Martin O'Neill isn't going to push Randy Lerner into selling James Milner and David Villa is "surprised" that Fernando Torres is staying at Liverpool.
Robbie Savage's new book: The Daily Mirror serialise the Welsh midfielder's autobiography. "I was ready to do something really stupid. Not suicide, because that is for cowards, but something very close and very crazy. I was planning to take the car out and smash it into a tree. Or go out and bang my head into a wall again and again. Just ending all the pain. Football is my life and it was being taken away from me. So I decided I would end my career on my own terms, by injuring myself so I couldn't play any more. In the end I went to one of my closest friends and told him what I was planning. Then I went to the doctor, who put me on medication for depression."
Frank and Christine: The Daily Mail have pics of Frank Lampard and Christine Bleakley enjoying a summer drink at the pub. But whoever wrote the article (Mail online reporter) is struggling with an understanding of the football season: "Bleakley and Lampard are no doubt making the most of their time together before the footballer starts the new football season with an FA Cup game against Manchester United."
Click here for more Premier League betting tips
---