Watch Arsene Wenger deny Arsenal are in crisis pre Olympiakos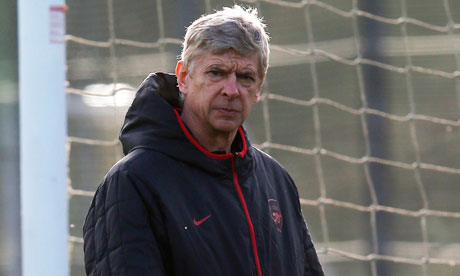 Many of the newspapers this morning claim Arsene Wenger was angry during his press conference ahead of Arsenal's Champions League game at Olympiakos.
Wenger said, sitting alongside Arsenal number 1 Wojciech Szczesny: "We have 23 games to come back in the Premier League. But when you are out of the Champions League, then you are out. It is fashionable to have a go at Arsenal but this club is in fantastic shape."
And, the Arsenal boss continued: "We have a good team and a strong structure we have built over the years. We are in a strong financial situation and we are mentally strong. I understand not everybody is pleased about that — but it's a fact."
The Arsenal manager also denied any links with taking over at Paris Saint Germain in France's Ligue 1 and put the Gunners position in comparison to where Manchester City are at – i.e.. heading out the Champions League.
Watch the Arsene Wenger& Wojciech Szczesny/press conference on the video below.
[jwplayer config="For-all-videos" mediaid="265105″]
---
GAMBLING CAN BE ADDICTIVE, PLEASE PLAY RESPONSIBLY