Was Wayne Rooney's "12th man" comment really comparable to Drogba's Champions League outburst?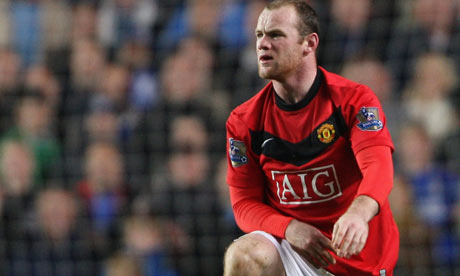 After receiving a wrap across the knuckles after mouthing the words "12th man" to the TV cameras after Manchester United's 1-nil defeat to Chelsea on Sunday, the papers are lining up to report on Wayne Rooney's bad-boy behaviour this Tuesday.
The Guardian's Dominic Fifield appears to go a step too far though, but claiming that Rooney's outburst was comparable to Didier Drogba's imfamous reaction to Chelsea's Champions League exit to Barcelona last season.
According to the hack, "the incident had prompted comparisons with Drogba's reaction to elimination from last season's Champions League by Barcelona at the semi-final stage though, where the Ivorian had sworn into a camera with Uefa considering his manic behaviour to have been threatening to the Norwegian official, Rooney's was one of muttered disgust. His comment, with its perceived criticism of the referee, Martin Atkinson, was broadcast live, prompting the FA to warn a player who has been booked only three times this season to date."
Is such a comparison warranted?
Wayne Rooney's "12th man" comment can be seen here, while Drogba's outburst can be relived here.
---