Was Cristiano Ronaldo (Real Madrid) targetted by Nivaldo (Valladolid)?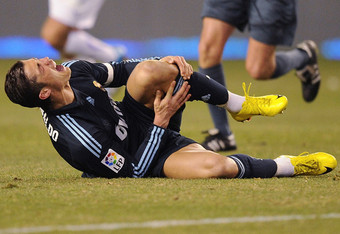 "I went to take the ball and he [Cristiano Ronaldo] dived. The referee saw this and did not whistle. That's why he was angry, when I stamped on him, I did not do it intentionally. As a player he is very good, but he does things that another referee would surely show him a card. He was very provocative. If you say that I should have been sent off, then so should he. In the play of the first-half with Marquitos, the ball goes out and when he is walking away, Cristiano Ronaldo kicked him from behind. Then he pushed, also from behind, Pedro Lopez and the referee did not whistle nor anything." – Valladolid's Nivalo.
The incident in question can be seen here, while as a bonus a second controversial incident involving Valladolid's Cesar Arzo touching Guti in all the wrong places can be seen here.

***
Switching to Barcelona, Lionel Messi's match highlights against Valencia can be seen here.
Click here for more Premier League betting tips
---