Videos: Arsenal boss Wenger admits interest in Cavani & Zaha + has a fun time with journos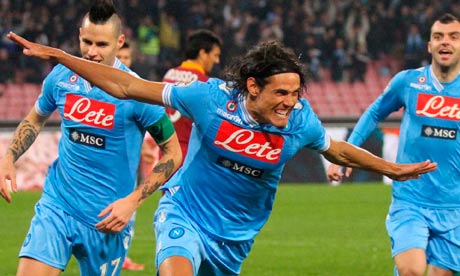 Following the 1-0 win over Swansea on Wednesday night, securing progression to the FA Cup 4th round, there was a light hearted feel to Arsene Wenger's press conference this morning.
It began with Wenger apologising for being late and the Arsenal boss cracked a fair few jokes with the journalists initially after walking in.
The whole presser had the feel of a smokescreen with Wenger admitting Arsenal's interest in Wilfrield Zaha and Edinson Cavani.
On the Napoli striker, who has scored 16 Serie A goals this season, Wenger said: "Cavani is a player that I like. Will he cost a lot of money? That's for sure. Nobody would deny that. [But] our banker lives just next to me at the moment and he is ready if we find the right player."
And on the Palace winger, long rumoured to be heading to Manchester United, Wenger added: "We are looking at him, but at the moment we have not made any bid for him. I don't know if Manchester United are in for him. Anyway, if you call any club for any player, they will tell you Man Utd, Milan, Real Madrid are as well in for him, but it is always difficult to know if it is true or not."
Zaha, a Championship player wouldn't be cheap and Palace are keen to keep hold of their player until the end of the season – most Arsenal fans are in agreement that reinforcements are needed now.
Whilst Cavani has a release clause at Napoli of 60 million euros. Is contracted to the Serie A side until 2017 and would likely be chased by clubs with huge resources (e.g. Manchester City and Chelsea).
Wenger may well splash the cash in January but it will likely be for much lower fees and as is often the case with "The Professor," these signings could well come out of the blue.
Videos below include Wenger talking about Cavani and Zaha. Plus a second video of how the Arsenal boss interacted with journalists at the start of the presser.
---
GAMBLING CAN BE ADDICTIVE, PLEASE PLAY RESPONSIBLY