VIDEO: Was Wolves' Karl Henry deservedly sent off against Arsenal?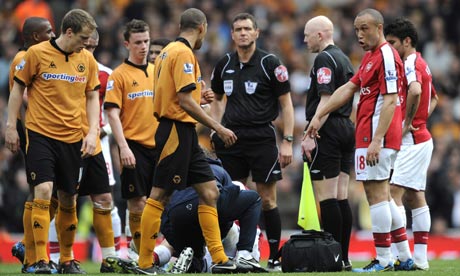 The Old Gold skipper has come out in the press this Monday yelling his innocence against his red card picked up at the Emirates. Turning focus back on Arsenal players, Henry labelled the Arsenal team as more than happy to "go down like a sack of spuds." But, for all his back-chat, was Karl Henry's red card deserved against the Gunners?
Ray Houghton on Irish TV at the weekend argued that Henry had no defence for his dismissal.
Even before analysing the incident with Thomas Rosicky, Houghton flagged up how Henry was already walking a tightrope before his red card when he stood on Theo Walcott's calf arguing "he could have easily taken his boot away but he didn't."
Having seemingly established Henry as not just reckless but with a hint of maliciousness to his game, Houghton then moved on to discussing Henry's clash with the Czech midfielder.
Calling Henry's challenge "dreadful," the Irish pundit chugged "you can't tackle from behind. His foot was high," while ending his commentary by pulling up a picture of Rosicky's bloodied leg in order to strengthen his point.
Ray Houghton's analysis of Karl Henry's red card can be seen here.
---