VIDEO: Sullivan & Gold unveiled as new West Ham owners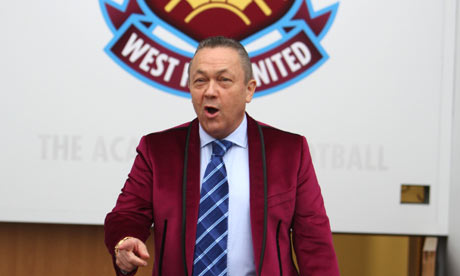 Finally it's done. The strung-out takeover of West Ham has finally been completed and the winners are the former Birmingham bosses, David Sullivan and David Gold.
The duo have bought 50% of the club and have an option for the next four years to acquire the remaining 50%. But the takeover is definitely bittersweet, as Sullivan admitted the club was in "a mess" saying that if it wasn't for the fact that the pair are Hammers supporters they wouldn't have bought the club.
Looking like Willy Wonka in his purple velvet jacket, David Sullivan admitted the club is depressingly in debt to the tune of £110m.
Sullivan: "We've got £50m owed to banks and £40m owed to other clubs, including Sheffield United [for the Carlos Tevez affair]. In addition, West Ham are not owed a single penny by other clubs. The club has also borrowed against next season's ticket money and then there is the Alan Curbishley settlement. Makes around £110m in total. We've inherited these liabilities and we are going to have to work through them. We need to do a lot of wheeling and dealing which we're good at."
Rather than being a celebration, the rather sombre unveiling of David Sullivan and David Gold at their debut West Ham press conference can be seen here and here.
---