VIDEO: Roy Keane (Ipswich) mocks Arsene Wenger's (Arsenal) input on Le Hand of Henry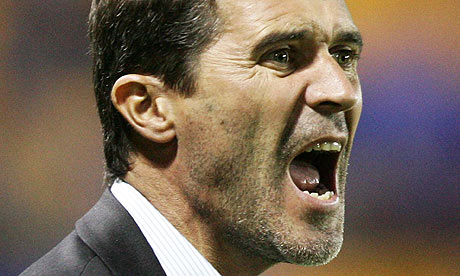 Another week, and another gripe for Irish hardman Roy Keane.
After his verbal tongue-lashing last week following Ireland's elimination from the World Cup by Le Hand of Henry, this week Keano went on the assault once more by firing a cheeky dig at Arsenal boss Arsene Wenger for his involvement in the handball debate.
Keane: "People were giving their own comments last week and obviously I gave mine as an ex-player and as an Irishman. I was born and raised there, I thought I was entitled to give my opinion. Everyone else has given their opinions — other managers who aren't even Irish — so I thought I was entitled to give mine… I don't know about Arsene Wenger making the point. Some of the Arsenal behaviour over the last few years is questionable and Arsene Wenger never sees anything anyway. Maybe we just need a video at the Emirates."
Roy Keane's attack on Arsene Wenger can be seen here.
---