Video: Olivier Giroud's crucial miss on Arsenal debut v Sunderland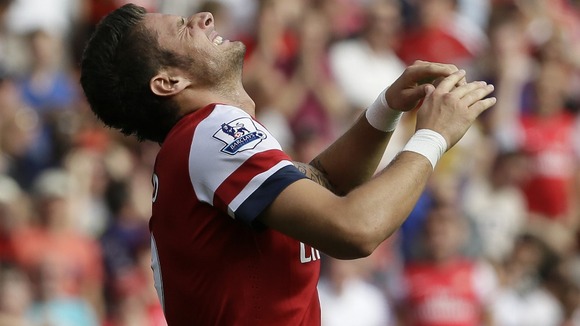 "That's the burden you face when you take over from Robin van Persie because people are used to seeing him score. But he missed some chances as well and I feel Giroud will score goals but he rushed his chance a bit he had more time than he thought he had and I believe in time he will get there. I'm not worried too much about that and I'm sure I'm right." – Arsenal boss Arsene Wenger on Olivier Giroud's late miss v Sunderland.
It could have all been so different. Instead of a 0-0 opening day draw with Sunderland and yet more criticism over the departure of Robin van Persie, Olivier Giroud missed a golden chance late on during his Premier League debut.
Arsenal's new French striker was introduced in place of Lukas Podolski on 64 minutes and with 8 minutes remaining was presented with the best chance of the match.
Santi Cazorla, impressive on his first appearance at the Emirates, slipped in Giroud, who somehow managed to blast the ball wide with the goal gaping.
A collective groan could be heard amongst the Arsenal fans with suggestions that the former Montpellier striker is "the new Marouane Chamakh."
It should be pointed out that the video below looks pretty poor from Giroud's perspective but just 5 of his 33 league goals with Montpellier came with his right foot.
Video of Giroud's match defining miss is below:
Related link: Matt Le Tissier: Arsenal lack quality up front.
Best football betting tips & free bet offers
Click here for more Premier League betting tips
---