Video: Michael Owen throws a punch at Mikel Arteta (Arsenal 1 – Stoke 0)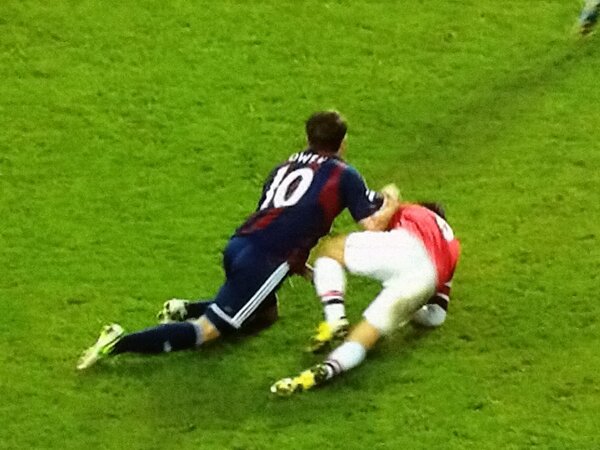 This isn't the Michael Owen we all know and love! Stoke have changed the diminutive former England goal scorer!
Undoubtedly, Michael Owen throwing a punch at Mikel Arteta late on in Arsenal's 1-0 win over Stoke has to go down as one of the most surprising incidents of the season.
Owen was introduced in the 84th minute of Stoke's defeat at Arsenal and as "1-0 to the football team" rang out from the home support was involved in an incident with Mikel Arteta and then Jack Wilshere.
The Stoke sub is clattered by Arteta, who wins the ball, and Owen reacts punching (limply) the Spaniard.
Arteta also swings his elbow and then Jack Wilshere comes in to protect his Arsenal team mate – as these pictures also show.
The former Liverpool, Real Madrid, Newcastle and Manchester United striker now faces a possible suspension with Stoke boss Tony Pulis struggling to defend his man after the Emirates loss.
Pulis:  "Arteta's challenge was poor, but Michael should not do that. If Michael has done what he has done and they look at it, then they will deal with it."
Video (via Arsenal List) and GIF (via Feint Zebra) below of Michael Owen throwing a punch at Mikel Arteta. Shocking scenes!
Click here for more Premier League betting tips
---