VIDEO: Manchester United fans project anti-Glazer slogans on Old Trafford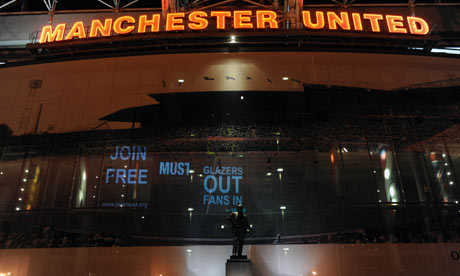 With just a few more weeks left of the Premier League season, Manchester United fans determined to force the Glazer family out of the club stepped up their efforts on Friday night by projecting slogans onto Old Trafford.
MUST (the Manchester United Supporters Trust) were the body behind the PR stunt, in which messages such as "We want the Glazers out" were flashed on the North Stand of the Theatre of Dreams. Further, MUST attacked the corporate sponsors of the club, including AIG and Nike, by beaming their the logos onto Old Trafford with messages saying "Time to choose sides" and "Are you keeping the right company?"
Recording their stunt, the cameras caught the official Manchester United response to protest as club officials tried to get the operation closed down without success.
Footage of the MUST stunt can be seen here and here.
Click here for more Premier League betting tips
---