Video Evidence: Tottenham chase Sporting Lisbon striker Yannick Djalo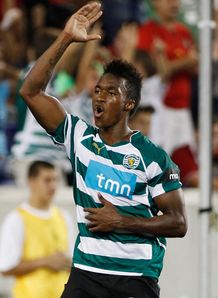 Spurs boss Harry Redknapp has had a quiet transfer window. The arch wheeler dealer has made no notable signings, besides unknown Brazilian defensive midfielder Sandro from Internacional, and it is less than two weeks from the start of the Premier League.
However, as the end of the transfer window approaches the Tottenham manager may be getting twitchy. Rumours abound that he is looking to offload Peter Crouch as he seeks to improve his attacking options. (Redknapp has though laughed off this story at the end of this video.)
Sporting Lisbon's 24 year old striker Yannick Djalo has been lined up as an alternative to the strikers that Spurs have at the Lane at the moment. The striker's agent has confirmed that a move is likely and stated: "He is a player who is wanted in England and Tottenham looks like the most likely destination."
The striker emerged from Sporting Lisbon's famed youth academy of whose luminaries include Crisitiano Roanldo, Nani and Ricardo Quaresma. He was loaned to Casa Pia for a season where he scored 16 goals in 26 appearances. Since returning to Lisbon he has netted 17 goals in 74 games.
As well as playing as a striker Djalo can play on either wing. He is good at one-on-one situations and can use a step over or a quick burst of  acceleration to beat a defender. Although he stands at 5.7ft the striker scores many headed goals as he possesses an excellent leap.
Djalo works hard and will chase back to retrieve the ball. One major criticism of his game is that he can be selfish. His manager has benched him to teach him a lesson, which led to the player and manager falling out last season.
Djalo's agent has confirmed that an official bid has been made: "Sporting will let him leave for around €7 or €8 million. The firm offers we have are from Tottenham and Newcastle, which are both over €5 million. Therefore, given the small difference in question, I believe this transfer will go ahead quickly."
Although Newcastle and Serie A clubs may offer more money the striker wants to come to London as his father works as a scout for Chelsea whilst his brother plays in the Chelsea reserve team.
Tottenham fans should expect a deal to be wrapped up by the end of the week although one current Spurs forward may have to be shifted on by 'Arry in the meantime.
Video evidence can be seen here and both his pre season goals against Manchester City can be viewed here and here.
Click here for more Premier League betting tips
---