Video Evidence: How good is new Liverpool signing Luis Suarez?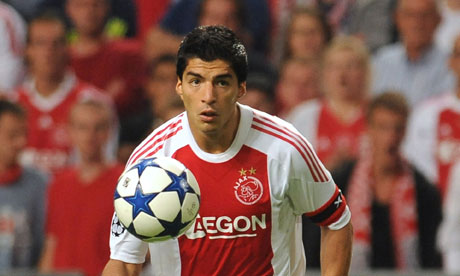 "Luis Suarez has successfully passed his medical and personal terms with the player have been agreed. We expect to complete the remainder of the paperwork [on Monday]" – Liverpool FC.
Liverpool fans will finally get to see new signing Luis Suarez arrive at Anfield on Monday as the 24-year-old Uruguayan striker completes his £22.8m move from Ajax to Merseyside. Whether Suarez arrives as the strike-partner of Fernando Torres or as his replacement remains one of the big questions of transfer deadline day, but that aside the centre-forward is poised to make himself an instant household name in Blighty.
Liverpool could hardly of signed a more prolific goalscorer.
Last season Suarez, who can also play on either wing, scored 49 goals in all competitions for Ajax and also starred for the Uruguay national team in the 2010 World Cup scoring three goals. Suarez has then picked up where he left off this term too, managing to shrug off what has been almost daily transfer speculation to contribute 11 goals and nine assists in 22 matches for the Amsterdammers.
On a bare viewing of his stats then, Suarez is a man who makes things happen. But when you thumb through his highlights reel more closely, it becomes apparent that Suarez is a very confident, very controversial and very explosive player.
Suarez is a goal machine. Able to score with his head, both feet, and also deadly from free-kicks, Suarez appears to be the complete package.
But Suarez also has a dark side. The striker has often been earmarked as one who likes to bend the rules for his own purpose, particularly by going down a little too easily in the box on occasion. He is also capable of blowing a gasket should he not get his way. Further, as many will remember from his famous handball at the World Cup, Suarez appears comfortable with the notion of cheating if the circumstance so demands. One suspects however, that provided Suarez pulls such antics in favour of Liverpool the Kop will naturally defend their new mega-money signing.
There is every reason to suggest that Suarez will be a massive success in the Premier League.
As natural born goal-scorer with a glut of experience in the Eredivisie, Champions League and in the international arena, Suarez is hardly a wet-behind-the-ears forward still learning his trade. Rather his is the real deal – a goalscorer who should need little settling in time at Liverpool.
Video Evidence: All of Luis Suarez's 49 goals in 2009/10.
Bad Boy: Luis Suarez gets a seven game ban for biting PSV midfielder Otman Bakkal & Suarez gets sent off at the World Cup for a handball against Ghana.
The Talent: Suarez's winner against South Korea at the 2010 World Cup & Suarez's incredible 70-yard shot versus PSV.
Click here for more Premier League betting tips
---