Video Evidence: Gary Neville calls time on his career at Manchester United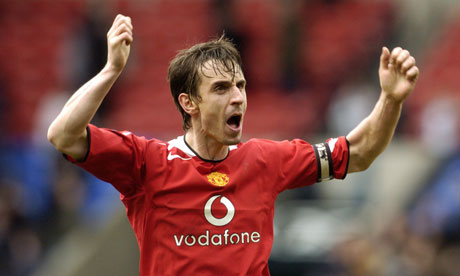 "I have been a Manchester United fan all my life and fulfilled every dream I've ever had. Obviously I am disappointed that my playing days are at an end, however it comes to us all, and it's knowing when that time is and for me that time is now. I have played in the most incredible football teams, playing with some of the best players in the world as well as against them and I have been lucky to have been part of the team's achievements and the club's great success. There are so many people I want to thank and, of course, top of that list is Sir Alex… Also, I'd like to thank all the coaches I have played under from youth level right through to now, who have guided me through my playing days. And finally, the fans, who have always shown me unbelievable support. They know how special they are to me and this club. I am looking forward to new experiences and the club will always be a part of my life going forward. However, the most important thing now is for the club to continue with the success that is synonymous with Manchester United and I will be supporting them all the way, as a fan." – Gary Neville
***
He's football equivalent to Marmite. Many love him. Many hate him. Everyone has heard of him. And almost no-one doesn't have an opinion on him. Which is why Gary Neville's retirement from football has been so widely covered this Thursday.
The Neviller is one of those players who is synonymous with the Premier League and with the modern era of the Red Devils. He was an integral part of Manchester United under Sir Alex Ferguson, and one of the key players during English football's rapid rise during the 1990s and through the 2000s. He'll be remembered for his eight Premier League titles, three FA Cups and a Champions League winners' medal, plus his 85 England caps.
But it's not all strawberries and cream when it comes to Neville. He has found many enemies in the game throughout his 602 career matches spanning 17 seasons of football. Few Liverpool or Arsenal fans are in the Gary Neville supporters club.
Having traipsed through as much Gary Neville videos as we could get our hands on, here are the best clips of the Neviller's illustrious career.
Gary Neville's Crosses: Seeing Gary Neville bombing down the right wing, combining with the likes of Beckham, Kanchelskis, Ronaldo and Nani over the years, has been one of the staple sights at Old Trafford over the last two decades. Perhaps somewhat underrated alongside all those stars, Neville consistently proved himself an excellent deliverer of the ball from the right hand side.
Gary Neville's Defending: Reducing Gary Neville's defensive ability to one short video clip is clearly a distortion, but with that pushed to the side, this wonderful analysis of the Neviller's shift against Tottenham in a 4-0 away win back in 2007 is typical of the number two's talents. Dogged, tenacious, determined, tough in the tackle and always looking to turn defence into attack, Neville dominated the right hand side of the pitch alongside Ronaldo in a first-class performance of how a full-back can influence a match.
Gary Neville's Passion: So many buzzwords are attached to Neville, and passion is right up there at the top. A controversial figure who never made any attempt to hide his love for United, or his dislike of their greatest rivals, he was fined £5,000 by the FA after racing half the length of the field to celebrate in front of the Liverpool fans after a last-minute Rooney winner in 2006.
Gary Neville's Team Ethic: Some players are selfish. They look out for number one. But the Neviller, brought up with the Fergie Fledglings, was always much more of a team player looking to have his teammates' backs. That was plainly evident during the famous Patrick Vieira-Roy Keane tunnel bust up in January 2006, as Neville supported his then Irish captain by delivering a death stare to Vieira as the teams shook hands before the match got underway.
Gary Neville's Intensity: Along with passion, intensity is another buzzword associated with the Neviller's footballing career. One incident back in 2006 provides a simple go-to proof of such as, moments before the Manchester derby, the Neviller refused to eyeball, let alone shake the hands of former Old Trafford legend Peter Schmeichel as he lined up as City's goalie.
Gary Neville's Bloopers: You don't play as full a career as Gary Neville did without collecting a small sampling of bloopers for the showreel. Top of the pile will be that own goal scored on international duty during England's horrendous collapse in Croatia in 2006. Then there was the time that Neville was laid out by the full force of a Wayne Rooney shot smacking him in the face. While away from the field itself, Neville has always courted special attention in his home life from more recent news reports of his plans for an £8m Tellytubby style house to the good old days when he used to share a place with his best pal David Beckham.
Best football betting tips & free bet offers
Click here for more Premier League betting tips
---