Video evidence: Ezequiel Lavezzi (Liverpool)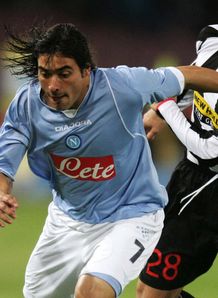 "So near but yet so far" has been used to characterise Liverpool's season. The following statistic has sickened fans since the end of last season, although the Merseyside club lost 2 games less than Manchester United, they drew 5 more which ultimately cost them their first title in nineteen years.
When Torres and Gerrard were out injured, Babel and Kyut were unable to step up to the plate and score vital goals in the tight games against lower teams. This meant that Liverpool were unable to walk away with the points that may have put them out of sight of the chasing pack earlier on in the season.
With Liverpool's defence only conceding 27 goals, expect Rafa Benitez to focus his attention on bringing in a hit-man to score goals if both his stars are injured or being rested.  So as the silly season begins the first name which has been linked with Liverpool is that of Napoli's versatile striker Ezequiel Lavezzi.
Lavezzi is a 24-year-old, 5 ft 8 inch Argentinean, plying his trade at Napoli. As you would he expect has had to deal with the unwanted tag of being the "new Maradona." The player believes that his playing style bares greater similarity to that of Carlos Tevez, perhaps Benitez sees the former as a cheaper alternative to the latter.
Napoli is his second club in Italy. He first joined Genoa from Estudiantes de Buenos Aires for 1 million euros in 2004. He was quickly loaned to San Lorenzo to give him time to physically mature and cope with the rigours of Italian football.
The loan move became permanent following Genoa's involvement in Italy's match fixing scandal. As punishment the club was relegated to Serie C1. With the loss of television revenue the club was forced to slash its wage bill. Despite the promise which Lavezzi had shown he was sold to San Lorenzo for a paltry 1.2 million euros.
The striker continued to improve and bagged sixteen goals in fifty five appearances at San Lorenzo, an impressive figure for a twenty-one-year-old. His form caught Napoli's attention and he signed a five year contract after a 6 million euro transfer fee had been agreed.
Lavezzi had an excellent first season with the Partenopei scoring eight goals in thirty five appearances. He dazzled the crowds with his ability to run at speed with the ball, his trickery and ability to hold off defenders with his excellent close control. His form meant that he was rewarded with a one year contract extension.
His second season was much less successful. Although he began well, his form quickly deteriorated and culminated in his falling out with Napoli's management. He flounced back to Argentina ignoring his club's requests to contact them. It is this breakdown in relations which has presented Liverpool with an opportunity to land the player.
Benitez should be careful, although the player shares many of the same skills as Maradona he also has the same portly shape which has led him to be nicknamed "El Pocho" (the fat one). He also has a reputation for indiscipline, a legacy of his rough-and-tumble youth.
The people of Liverpool ought also be cautious of Lavezzi's WAG.  There was a well reported incident where Lavezzi and his girlfriend experienced a car accident on a Neapolitan street. When the owners of the car asked to exchange insurance details, Lavezzi and his girlfriend lost their tempers. Punches were thrown, a car window was smashed and his girlfriend became an overnight sensation for removing her belt and using it to whip one of the two men in the other car (he was later hospitalised).
Lavezzi is certainly highly regarded in Italy and his agent has claimed that Liverpool have contacted Napoli over a potential transfer fee. Napoli believe he is worth around 20 million euros. However, the impasse between player and club may means that the eventual transfer fee is considerably less. Nevertheless expect Liverpool to sell to finance this acquisition.
Video evidence of Ezequiel Lavezzi in action can be seen here.
---
GAMBLING CAN BE ADDICTIVE, PLEASE PLAY RESPONSIBLY