Video Evidence: Chan Siu-ki (Tottenham)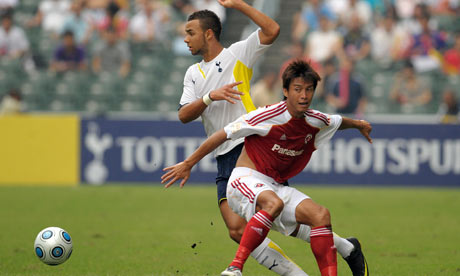 In the wake of Tottenham's newly formed business alliance with Hong Kong's most successful club side, South China, the north Londoners have agreed to host their partner's star striker Chan Siu-ki for a 10-day trial before the end of the year.
Without question, the basis of Spurs' new deal with South China is purely commercial. Already having partnerships with South African league champions SuperSport United, MLS outfit San Jose Earthquakes and Sport Club Internacional of Brazil, the deal with the Asian outfit is Tottenham's first in the region as the Lilywhites attempt to break into a lucrative new market.
Unashamedly, Spurs have been frank and honest about the nature of their new commercial partnership, with the official Tottenham website announcing "the relationship with the Hong Kong-based football club will look to focus on football and commercial development. This will include a best practice exchange programme, a shared knowledge of coaching methods and techniques as well as coach visits. Along with football-based objectives there will also be an agreement to explore further commercial opportunities."
The lucky benficiary of the new deal though is South China forward Chan Siu-ki, who Tottenham fans may remember scoring a wonder-strike against the Lilywhites in a pre-season friendly back in the summer.
Prolific in Hong Kong, 24-year-old Chan Siu-ki has an incredible international record of 26 goals in 32 games for Hong Kong, as well as scoring 22 goals in 28 games for his club side since joining in 2008. Prior to that the forward had plied his trade for Kitchee Sports Club where he netted an equally impressive 27 goals in 40 appearances.
With Tottenham already having their fill of strikers with Defoe, Keane and Pavlyuchenko on their books, it seems highly unlikely that this deal is anything more than a goodwill gesture supporting the more prominent commercial objectives.
A brief report into Chan Siu-ki's trail at Spurs, including footage of the forward's wonder-strike against Tottenham from last summer, can be seen here.
More video evidence of Chan Siu-ki playing in the Hong Kong league can be seen here.
---
GAMBLING CAN BE ADDICTIVE, PLEASE PLAY RESPONSIBLY