Video: Brendan Rodgers says Luis Suarez admitting he dived v Stoke was "unacceptable"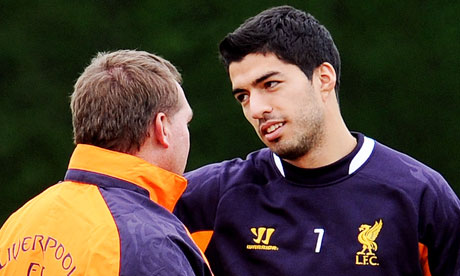 Just hours after comments from Luis Suarez given to an Argentinian TV programme made the news in England, Liverpool boss Brendan Rodgers has slammed his star forward during his press conference today.
The Liverpool manager said Suarez will be "sanctioned" and had some pretty harsh words for the Uruguayan striker who has been in sensational form this season.
Rodgers: "I've seen the comments and I think it is wrong. Certainly from our perspective it is unacceptable. It is not something we advocate here. Our ethics are correct. I've spoken to Luis and he is totally understanding, and knows where I'm coming from as manager of the club. This is a big club and whatever people do say goes around the world, and what was said was wrong and not acceptable – he takes that and we move on…
The Liverpool gaffer added: "There is no one bigger than the club or the club's image. The comments, from our point of view as a club, are not what we would want to hear. This is something which was obviously wrong and is not something we associate with as a club of this standing."
Video of Brendan Rodgers' press conference can be seen below. The Luis Suarez dive v Stoke, and comments which caused all this fuss are here.
---
GAMBLING CAN BE ADDICTIVE, PLEASE PLAY RESPONSIBLY