Video: All 50 Luis Suarez goals for Liverpool on 1 video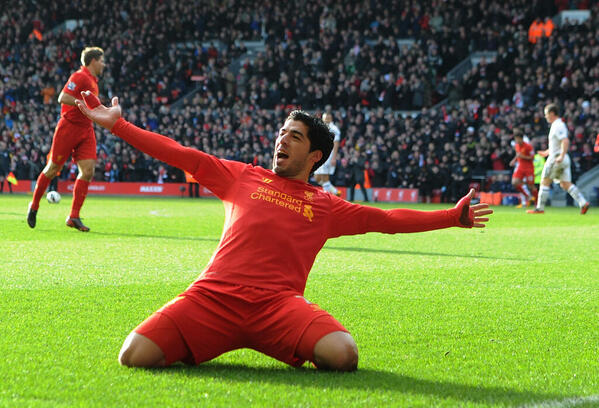 You can understand why Liverpool fans love Luis Suarez.
And, besides all the controversies, it is also easy to see why Luis Suarez is hated by opposition fans.
The bottom line is that the Uruguayan is a goal scorer of the highest class and could well go on to become an all-time great at Anfield, which in the context of Liverpool's storied history, is saying something.
Suarez notched his 50th goal for Liverpool on Sunday in the 3-2 win over Spurs and it was a typical near post finish that left many wondering how the former Ajax forward had squeezed it past Hugo Lloris.
The 50 goals came in 91 Liverpool appearances. And he became the 51st player in the history of the Merseyside giants to reach this milestone.
By comparison, Fernando Torres reached 50 Liverpool goals in 84 games.
In total, Luis Suárez has directly contributed to 76 goals – 50 goals + 26 assists – in 85 starts for Liverpool.
No wonder Steven Gerrard said after the Spurs win that "If he doesn't win an award this year, he'll be the best player ever not to win an award."
A video of all 50 Luis Suarez goals is followed by all 26 assists.
---