Under fire: Maccabi Tel Aviv play on as Hamas rockets rain down on Israel
"It has been a very strange and uncomfortable few days. These raids have taken us all by surprise. Tel Aviv is normally a great place to live with a great lifestyle outside of football. These attacks are rare even for the locals. I have been really enjoying my time here, but if I ever felt that myself, or my family, was in any danger I would have to reconsider things." – Maccabi Tel Aviv striker Rob Earnshaw (on loan from Cardiff.)
The excellent interview with Wales forward Rob Earnshaw comes from this Wales Online piece and is well worth a read.
Earnshaw also adds: "It is amazing how quickly life returns to normal around here. It just shows how confident and determined these people are to get on with their lives. The army and defence system here still seems to be very good, but it's not something I thought I'd have to experience in my football career. You don't hear about the war in Tel Aviv. It's a family-orientated place. Unless something major happens, I still want to play my football out here. I do miss Cardiff, but we are top of the league and I want to see us get into Europe."
The ongoing war in Gaza (Operation Pillar of Defense) has been felt on the football pitches in Israel and by some of the biggest teams in the Holy Land, especially those residing in the south of the country, close to where many of the indiscriminate missiles are coming from.
As Rob Earnshaw points out above, his team Maccabi Tel Aviv, have been one of the most affected with their training disturbed by incoming Hamas rockets and the lead up to their game against Bnei Yehuda also saw fans flee for safety.
The first video below shows how Maccabi Tel Aviv's training session last Friday was interrupted by a siren indicating an incoming missile.
And, then on Saturday night, Maccabi Tel Aviv fans were forced to shelter half-an-hour before their match with Bnei Yehuda as another siren indicated more Hamas missiles were on their way to Israel's commercial capital. (See the above picture & the second video below)
The Ligat Ha'Al match was played in full, with Bnei Yehuda securing an unlikely 1-0 victory over the league leaders.
Meanwhile, in Gaza, the Palestine International Stadium was targeted by Israel's air force, causing severe damage to the pitch, indoor hall and an adjacent building of the Ministry of Youth and Sports.
Incredibly, it has since emerged that Hamas were using the main national football stadium to hide and fire missiles at the south of Israel.
After the fold below are two pictures: The first shows the damage done to the main football stadium in Gaza, the second is an Israeli military map (in Hebrew) that shows Hamas rockets were being sent into Israel from this position.
(We realise this is a very sensitive issue for many of you and would urge any comments below to be respectful of both sides in what increasingly appears to be a grim situation for many innocent men, women and children on both sides.)
[jwplayer config="For-all-videos" mediaid="260662″]
[jwplayer config="For-all-videos" mediaid="260665″]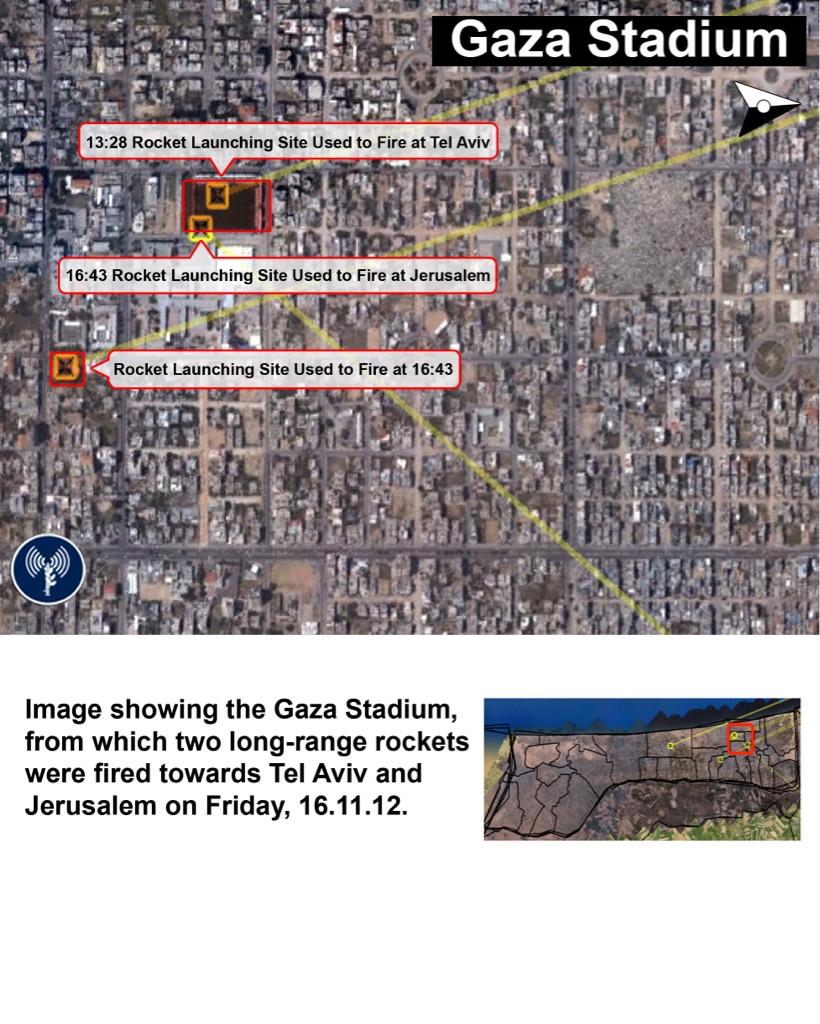 Best football betting tips & free bet offers
Click here for more Premier League betting tips
---