Under-13s match between Bahia & Vitoria descends into mass brawl, riot police called in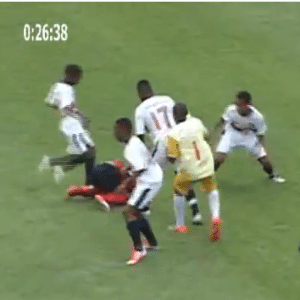 Yet another crazy video makes its way from Brazil – the 2014 World Cup should be great fun!
An under-13s match between Bahia and Vitoria over the weekend descended into quite a vicious brawl leaving players and spectators injured.
Bahia were awarded a 2-1 victory but the match was called off early when allegedly a Vitoria forward goaded the opposition's goalkeeper and defenders.
The Bahia back line then attack Vitoria forward and quite simply all hell breaks loose with mass punch ups and plenty of flying kicks.
Reports in the Brazilian media say riot police were called in, although this cannot be verified on the video below.
The crazy scenes can be watched on the video below.
[jwplayer config="For-all-videos" mediaid="246096″]
---