Trying to move to PSG? Chelsea's Eden Hazard & Angel di Maria swapped shirts at halftime (Video)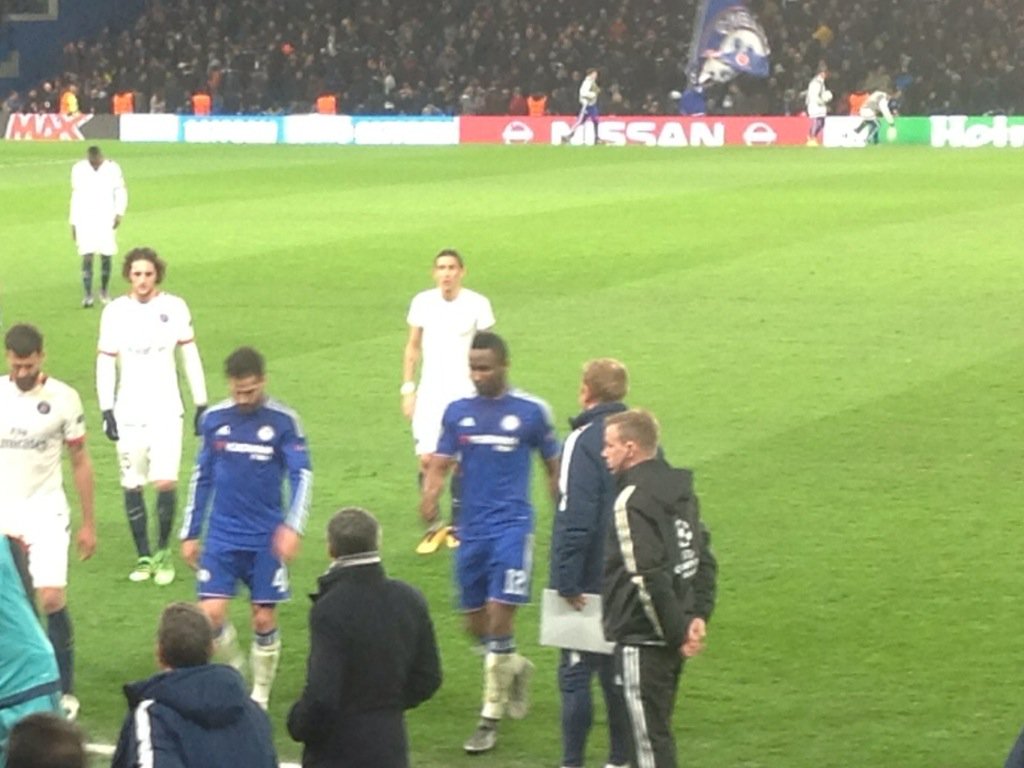 How many times are professional footballers going to do this?
Why do they feel the need to swap shirts at halftime?
Many people spotted a bizarre transactions at the end of the first half of Chelsea v PSG, as Belgium international Eden Hazard and Argentine winger Angel di Maria swapped shirts.
Most memorably, Mario Balotelli and Pepe came in for criticism in a Champions League match in 2014, when they swapped shirts at half time of Liverpool's home defeat to Real Madrid.
So did Hazard and di Maria do anything wrong? Was Hazard just looking to see how a PSG shirt would fit on him? Or should people just chill out?
Watch footage of the incident below, together with tweets on the topic.
.@hazardeden10 caught swapping shirts with Di Maria at half-time… #UCL #PSGCHE https://t.co/Qe8waEnVWT

— BT Sport Football (@btsportfootball) March 9, 2016
Hazard swaps shirts with Di Maria at half time. When Balotelli did it against Madrid, the Liverpool Echo almost called for public flogging.

— Sport Witness (@Sport_Witness) March 9, 2016
Hazard and Di Maria swapping shirts, half and half scarfs and now a non contact sport…… @StanCollymore #getagrip

— Stewart McCullough (@Stew_McCullough) March 9, 2016
Hazard swapped shirts with Di Maria. Only one of them will have to laundry the one he got.

— Ramzi (@footballmood) March 9, 2016
Hazard swapping shirts with Di Maria at half time. Somehow I can't see that happening at Anfield tomorrow! #CHEPSG #Liverpool

— Martin Dillon (@MDillon40) March 9, 2016
Hazard swapping shirts with Di Maria at the break. So desperate to join PSG.

— Ifreke Inyang (@Ifreke) March 9, 2016
hazard swapping shirts at half time, that means di maria is gonna play for us instead of that fat belgian prick yesssss

— SG (@PeleWasAFraud) March 9, 2016
I can already hear the furious fingers tapping the keyboards. Hazard swaps shirt with Di Maria at half-tine.#CHEPSG #Hazard

— Euan McTear (@emctear) March 9, 2016
Don't get the anger about half-time shirt swapping. It won't make Eden Hazard or Angel Di Maria any less desperate to win the match. #CHEPSG

— John Bennett (@JohnBennettBBC) March 9, 2016
Eden Hazard & Angel Di Maria swapping shirts at half time there. Hmm. Not sure what to make of that… #CFC 1-1 #PSG #UCL

— Joe Prince-Wright (@JPW_NBCSports) March 9, 2016
Making Angry People Angrier:

"Disrespectful" penalties < Not shaking hands < Swapping shirts at half-time < Biting < Spitting#bbcfootball

— Conor McNamara (@ConorMcNamaraIE) March 9, 2016
Click here for more Premier League betting tips
---