Tottenham's pursuit of Frank De Boer seems over after manager says "I have no intention to leave Ajax"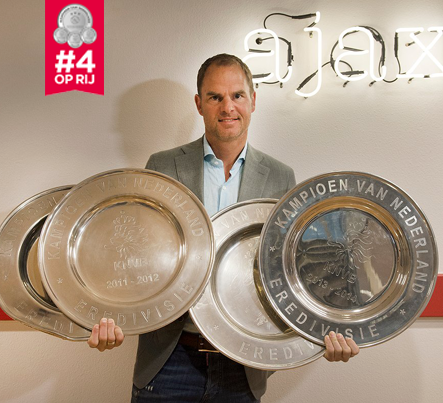 It looks like Tottenham may have cocked up their pursuit of a second Dutch manager to replace Tim Sherwood even before Sherwood has been fired or the season finally come to it's close.
It's a widespread rumour/assumption that Tottenham will fire Tactics Tim at the end of the Premier League season, with Spurs looking to pull in a bigger name manager to lead their revival over the summer and next season.
A while back it was thought that Louis van Gaal would take over at White Hart Lane after his contract with Holland ends after the World Cup, however that chase hit a roadblock when Manchester United moved in after sacking David Moyes.
After Van Gaal came reports that Spurs were tracking Ajax boss Frank De Boer, but after a week of quotes and denials of approaches and deals in the press, De Boer has seemingly shut the door on Spurs on Saturday.
After Ajax drew 2-2 with NEC Nijmegen the manager said " I have no intention to leave. I'm happy to work another year at Ajax."
See the full set of quotes from Frank De Boer on Saturday below.
Frank de Boer on Ajax future, "I expect to lead the first session on 23 June,'

— Dutch Football (@football_oranje) May 3, 2014
De Boer, " Again, I do not mind talking to an interesting club. That includes Spurs. But there is no interest."

— Dutch Football (@football_oranje) May 3, 2014
De Boer, "And I have no intention to leave. I'm happy to work another year at Ajax."

— Dutch Football (@football_oranje) May 3, 2014
Click here for more Premier League betting tips
---