Tottenham's Gareth Bale gave a Real Madrid shirt-wearing fan an autograph [Picture]
The silly season continues.
On the same day that Spanish news agency AS reported that Real Madrid have offered €110m, including Fabio Coentrao, for Gareth Bale, a new picture of the Tottenham star is being circulated as a possible indication that the Spurs forward maybe moving to Spain this summer.
The picture in question shows Tottenham's number 11 signing an autograph for a Real Madrid fan, while the Welsh international appeared to have a smirk on his face.
Of course, this picture in no way offers any real insight into whether Bale will be at Tottenham throughout 2013-14. Moreover, Spurs fans should be reminded of the misplaced optimism Manchester United fans found themselves with when Thiago Alcantara signed a Red Devils shirt earlier in the summer.
Keeping with more concrete Bale updates, Tottenham manager Andre Villas-Boas has confirmed that his forward will miss the Premier League opener at Crystal Palace on Sunday due to injury.
The picture of  Gareth Bale giving a Real Madrid shirt-wearing fan an autograph can be seen below.
UPDATE:  To allay fears that signing an autograph means anything, a picture of Bale offering his signature to a Barcelona fan while on international duty can also be seen below.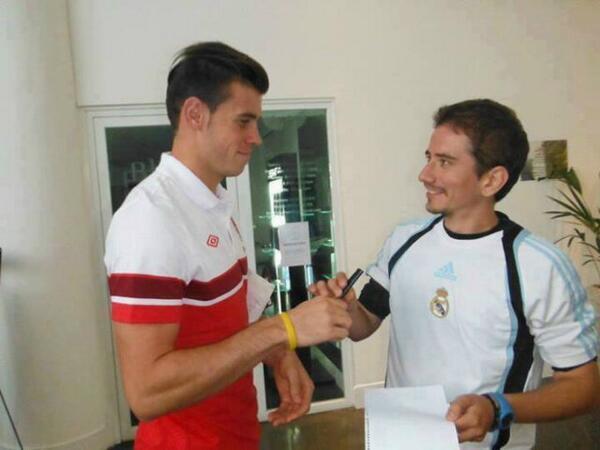 ---
GAMBLING CAN BE ADDICTIVE, PLEASE PLAY RESPONSIBLY