Tottenham remove Gareth Bale from their official Twitter page [AS]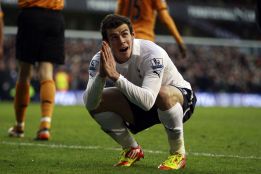 The Spanish media have been predicting for days that Gareth Bale's mega money move to Real Madrid is imminent and now Madrid-based paper AS lead on their website with social media news that suggests the deal is inching closer.
Tottenham have changed their official Twitter page pictures from Gareth Bale and Clint Dempsey to Mousa Dembele and Aaron Lennon.
Significantly, Dempsey signed for Seattle Sounders on Friday and the fact Bale was also removed, suggests the Welsh forward is set for a world record transfer fee move to Real Madrid.
For what its worth, the header of the Spurs Twitter page remains unchanged, featuring Jan Vertonghen and Kyle Walker.
AS write that this means "Bale is one step closer to Real Madrid" whilst there are reports NBC are changing their advertising in New York's Time Square which currently features the Tottenham forward.
Finally, Spurs announced this evening that new signing Roberto Soldado would wear number 9 next season, but no other numbers were confirmed.
The before and after picture of Tottenham's Twitter account, via AS, is below.
---