Comment & analysis round-up
Quote of the day: "Of course they can challenge. If Arsenal can't challenge what hope have we got? There are four teams we know which will finish in the top four. But will Arsenal finish first? I don't think so. I think Chelsea and United are stronger – that's my opinion. Every team has its different characters and different dynamics. Arsenal are still a good team but different to the one I played against. There were different characters back then. These days there is no [Martin] Keown, [Tony] Adams or [Patrick] Vieira. You need certain characters in your team." – Roy Keane.
Runner-up: "Since my arrival two months ago I haven't spoken much with Paul Ince. But every time I do he annoys me by going on about Ivan Zamorano. It seems like they got on well during their time together at Inter Milan. My teammates even make me feel the rigour of English football in training. They are not afraid to give me a good kicking, as though I played for a rival club. You don't get the time to blink here. As a striker I am constantly coming up against opposing defenders, and I have to laugh when I see my legs covered in cuts and bruises. I will need to get used to the pace of this league. The football is very physical, and I have to run a great deal. The fact that I don't speak English, and can't communicate with others, limits me in many ways. As a result I spend a lot of time watching TV in my apartment, eating nothing but frozen food. You can't imagine how much I hunger for the beef pasties and barbecues from back home. I have lunch at the club, but at night it's deep-frozen pasta for me, pure and simple." – Carlos Villanueva.
Today's overview: Wherever you turn this morning, reports on Tottenham fill the backpages. Amongst the frenzy, several of the papers (Daily Express and the The Times) claim that David Bentley has blamed Juande Ramos for losing his England place despite the lack of quotes, while the rest of Fleet Street busy themselves with finger-pointing and sharing round the blame amongst all the main protagonists at White Hart Lane.
The Tottenham board find themselves in a bind, according to Oliver Brown, not wanting Ramos anymore but unable to sack him. Dominic Fifield also claims that Ramos is safe in his job after meeting with Daniel Levy, although "the sporting director Damien Comolli's position remains precarious." This is echoed by Antony Kastrinakis: "The sporting director will be axed for his shambolic transfer policy with Spurs rock bottom of the Premier League on two points from seven games."
But Ramos could be a goner according to Martin Lipton, reporting that "unless Ramos can prove he is the leader he believes he is over the next month, then the reality is that Levy's support will come under the sort of strain that might be impossible to withstand."
Other opinions on Spurs include Frank Malley ("Comolli who speaks fluent French, Spanish and English but who perhaps does not understand the nuances of actually building a football team"), Ian Wright ("I would then give Ramos enough money to sign who HE wanted in January — with Gennaro Gattuso, Gianluca Zambrotta and Emile Heskey the top three players on my list"), Sid Lowe on how the Spanish media are supporting Ramos, while John Ley rolls out the damning statistic to Spurs fans that only one of the previous nine teams to be bottom after seven games have avoided relegation.
Several other Premier League teams get a mention this Tuesday. Under the backdrop of the news that Martin Skrtel is now sidelined for a considerable period of time, Mark Ogden still believes Liverpool can be confident of success. The same cannot be said for Arsenal according to Stan Collymore, who believes "Arsenal are in danger of becoming a feeder team to Europe's top clubs." Matt Dickinson praises Scolari's Chelsea in The Times ("Abramovich's riches will define Chelsea for many more years, but under new management they do seem to have cast off the sense of entitlement.") And lastly on the domestic scene, Hull's success and management structure is chewed over by Tony Cascarino.
In a stand-out article, Simon Barnes looks at the power of belief in sport and its impact on success, with particular focus on the current economic woes around the world.
Other more global football issues tackled today include Richard Williams' thoughts on how the current economic meltdown will impact on football, and Kevin Eason reports on Sepp Blatter's latest attempt to reign in on foreign investment in the Premier League and impose his "6+5" rule.
Moving onto England, Kevin McCarra is the latest hack to come out in support of Michael Owen. Matt Lawton and Neil Ashton claim that England's midfield against Kazakhstan will be (from right to left) Walcott, Lampard, Gerrard and Shaun Wright-Phillips. This is backed up by Shaun Custis who also reports that Lampard and Gerrard will be given one last chance to prove they can combine as a useful central-midfield tandem.
There are several reports on football on the continent. Looking back on the weekend that was in La Liga, Sid Lowe labels Atletico Madrid's title hopes a sham. Paolo Bandini notes how the writing is on the wall for Claudio Ranieri at Juventus, although Giancarlo Rinaldi says talk that Juventus have been plunged into crisis is somewhat premature. Leander Schaerlaeckens celebrates FC Groningen's start to the season in Holland. And finally, Bild focus their attention on Bayern Munich, asking "When will Klinsi's bosses take his lederhosen away?"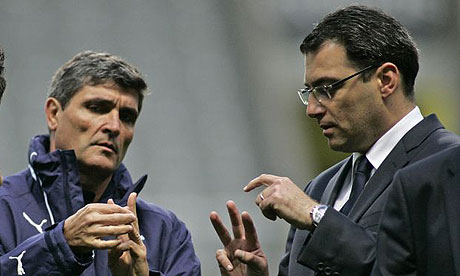 The Tottenham board find themselves in a bind, according to the Telegraph's Oliver Brown, not wanting anymore Ramos but unable to sack him. "Back at White Hart Lane they were turning in on themselves as they desperately sought a solution to their predicament at the foot of the Premier League table, only to find none – unable to sack a manager who is failing to inspire and unable to draw the best out of a team who are simply failing… However, there is understood to be boardroom disquiet about Ramos' lack of leadership and of clear communication to his players. Sources claim that he has acted in an aloof manner towards members of his coaching staff. But these are balanced by accounts that insist the Spaniard cares profoundly about his team and that he rallied them effectively in the dressing room after the Hull match."
The Guardian's Dominic Fifield reports that Ramos is safe in his job after meeting with Daniel Levy. "Bookmakers made Ramos odds-on to lose his job by Christmas though having met Levy post-match, he believes he will not suffer the same fate as his predecessor, Martin Jol, who was sacked a year ago. There has been an acknowledgment from the club hierarchy that there were encouraging signs in Sunday's display, though Levy has stressed that their league position is unacceptable and a swift climb up the table is expected after the international break. The club are insistent the crisis must be countered by a show of unity rather than more upheaval. The sporting director Damien Comolli's position remains precarious but even that will not be addressed in knee-jerk fashion. Levy is conscious of the effort undertaken to secure Ramos' services from Sevilla a year ago – much to the Spanish club's annoyance – on a contract worth around £4m a year until 2011, and the board cannot contemplate a search for a replacement."
While Ramos looks safe, Damien Comolli is being positioned as the fall guy at Spurs, according to Antony Kastrinakis (The Sun). "The sporting director will be axed for his shambolic transfer policy with Spurs rock bottom of the Premier League on two points from seven games… The North Londoners always insisted that Comolli's job depended on a successful transfer campaign and subsequent results on the pitch."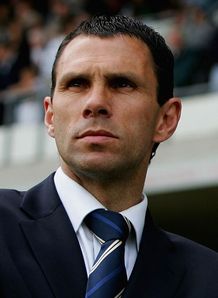 On Ramos, the Daily Mirror's Martin Lipton spoils the apple cart by suggesting that the Spaniard only has a short window to convince Spurs that he is the man for the job. "If Juande Ramos is to emerge from the N17 crisis with his managerial head still on his shoulders, the Spaniard will have to face down the dressing-room doubters before they launch a full-scale revolt… unless Ramos can prove he is the leader he believes he is over the next month, then the reality is that Levy's support will come under the sort of strain that might be impossible to withstand, no matter how much loyalty he wishes to show… A Spurs insider said: 'A lot of the players feel that Gus will take over and that he is the one they should listen to, rather than Ramos, but there's more to it than that. Every time the substitutes' board is held up, all 10 players turn round not knowing if they will be the ones coming off.'"
Frank Malley (Independent) pinpoints who he believes is the root of the problems at Tottenham. "How can that happen? How can a business get it so wrong? How can a football club do what amounts to Gerald Ratner famously standing up and doing untold damage to his own product? The answer, you suspect, has much to do with the blurring of responsibility and the presence of a sporting director in Comolli who speaks fluent French, Spanish and English but who perhaps does not understand the nuances of actually building a football team. Comolli is the man who Levy sits by and listens to and in whom he trusts his millions. Yet the fact is that the zenith of Comolli's playing experience came in the Monaco youth team. True, he had some success as Arsenal's European scout where he is credited with the discovery of Gael Clichy. But he has never won a major trophy in his life. He has never juggled the complexities of a sporting team at the coal face. It appears, however, that he has been given the power to shape the destiny of one of England's great clubs."
Mouthy Ian Wright (The Sun) gives his blueprint for how Spurs should come through their current crisis. "Firstly, I would call Juande Ramos into my office and tell him we were definitely NOT going to sack him. I would give him until the end of the season — whatever happened. I would then give Ramos enough money to sign who HE wanted in January — with Gennaro Gattuso, Gianluca Zambrotta and Emile Heskey the top three players on my list. If Ramos knew he was definitely staying, and that he would be allowed to bring in fresh players when the transfer window reopens, then all the fans would have no choice but to get behind him… If I was in the White Hart Lane dressing room, I would be looking for players who were ready to scream their heads off. I would expect them to encourage their team-mates, to criticise their team-mates and, most of all, to fight alongside their team-mates. Basically, I would want a bully in that team but there is none there."
For the Telegraph, Sid Lowe notes how the Spanish media are supporting Ramos. "Nor can they understand how the coach who led Seville to successive Uefa Cup triumphs and almost won them their first league title in more than 50 years has not been able to lead Tottenham Hotspur away from the foot of the Premier League. There is little wrong with Ramos; the explanation must lie elsewhere. After Ramos departed Seville last season, the glee with which their fans have greeted Spurs' collapse this season is inevitable. But it is born of resentment rather than realism. Website forums have been littered with laughter. The club's president, Jose Maria del Nido, has been delighted too, although he would never be so indiscreet as to say so in public."
The Telegraph's John Ley rolls out the damning statistic to Spurs fans that only one of the previous nine teams to be bottom after seven games have avoided relegation. "Four teams have had two points or less at this stage of the season and stayed up: Southampton and Newcastle United, who both had just one point from seven games in the 1998-99 and 1999-00 campaigns respectively, and Blackburn Rovers and Southampton again (who both had two points in 1996-97). Tottenham, though, will also be able to take some heart from the fact that Everton, one of the so-called 'big clubs', had only three points to their name at the same stage of the 2005/06 season, but ended the campaign in 11th."
Under the backdrop of the news that Martin Skrtel is now sidelined for a considerable period of time, the Telegraph's Mark Ogden still believes Liverpool can still be confident. "Liverpool have been in this position before, of course, and failed to profit from an impressive start. Under Gerard Houllier in 2002-03, a twelve-game unbeaten start to the season came to a halt with a 1-0 defeat at Middlesbrough, which was followed by a ten-game run without a victory that ended all hope of a first championship since 1990. But Benitez's team are now displaying the steel and resolve apparently absent in previous Anfield squads and the August acquisition of Spanish winger Albert Riera has added much-needed width and a potent threat from the right flank. The Spanish manager's tinkering has been abandoned in favour of a settled starting eleven and his 4-2-3-1 formation has retained the team's solid base, but added increased attacking options."
"Arsenal are in danger of becoming a feeder team to Europe's top clubs," according to the Mirror's Stan Collymore. "Wenger is no doubt bulletproof for his brilliant work at Arsenal since arriving in September 1996. But I can't see them winning the title or the Champions League while he steadfastly refuses to spend big on established superstars. Manchester United famously won the league in 1996 with homegrown youngsters like David Beckham, Paul Scholes, Nicky Butt and the Neville brothers. I don't think that feat will be repeated by Arsenal this season because of the quality of their rivals' squads. And surely the prodigiously talented Fabregas won't settle for another trophyless campaign."
Matt Dickinson praises Scolari's Chelsea in The Times. "Abramovich's riches will define Chelsea for many more years, but under new management they do seem to have cast off the sense of entitlement. Scolari is intent on providing some swagger, but only on the pitch. Events will intrude and the Brazilian is not a man to hold back under fire. Perhaps it is only a matter of days or weeks before John Terry is haranguing an official. A visit from Liverpool looms, which, given Chelsea's injuries, may put them under pressure. Perhaps Chelsea will fray at the edges, as all the great competitors can. Controversy may be round the next corner, but when a club start to offer thrilling, joyous football, you can forgive them just about anything."
Hull's success and management structure is chewed over by Tony Cascarino in The Times. "Like many, I had Hull down as relegation favourites, but they have far exceeded my expectations. They will not end the season in the Champions League places, but with the spirit and ability they have shown, they will be fine – mid-table, perhaps even higher. I like Brown's bravery; how many newly promoted teams would have played two up front at the Emirates Stadium? I was part of the Millwall team who won promotion in 1988 and began life among the elite brightly, with a mid-table finish in their first season before being relegated in their second. Our biggest weapon was our enthusiasm. Coupled with a burning desire to prove the doubters wrong, it made us fearless."
In a stand-out article, Simon Barnes looks at the power of belief in sport and its impact on success, in The Times. "It's not that we've run out of money. Rather, we've run out of confidence. That's the one semi-comprehensible fact that emerges from the specialist writing about the current financial supernova. Everyone says the same thing: the problem is panic, the problem is lack of belief. The implication is obvious: if we all believed that there was money, there would be money. If we all had confidence, the problem would no longer exist. The solution, then, is psychological. We don't need money: we need belief. But how do we build belief? How do we create confidence where none exists?…The currency of sport is ability: but the fortunes of able, indeed brilliant, athletes ebb and flow with the tides because of the question of confidence. Take the England football team; take the England cricket team; take the England rugby team. The footballers failed to qualify for the European Championships held this summer. The England team were full of good players who had no belief in themselves as a corporate entity. Last month they went to Zagreb to play their nemesis, Croatia – and won 4-1. Suddenly, we have a team of world-beaters. That's because there is a new coach, Fabio Capello, and the players believe in him."
Under the black cloud of the current economic meltdown, Richard Williams wonders how long it will be before the effects reach football in the Guardian. "In the short term, football's only reliable source of major revenue is likely to be television. The networks need the audience the game delivers and will pay handsomely to secure the supply line. But if broadcasting rights brought in enough money to keep the clubs in the style to which they have become accustomed, the likes of Mike Ashley and Bill Kenwright would not be lifting their skirts to investors. At Reading, John Madejski failed to find a buyer last year and saw the club relegated. Football, our economics editor concluded, is the one bubble that has yet to burst. It may be a while before the Rooneys and the Lampards need to downsize, but for the fans of those clubs who yearn to join the big four but have not quite managed it so far, the frustration is likely to get worse."
The Times' Kevin Eason reports on Sepp Blatter's latest attempt to reign in on foreign investment in the Premier League and impose his "6+5" rule. "Blatter outlined his fears for an English game overloaded with debt, dominated by four clubs and owned by wealthy foreigners who could walk away at any moment… With the credit crunch biting harder each day, Blatter knows that he is speaking to an audience of fans receptive to his warnings, but the Fifa president also knows that he is powerless, for now, to intervene in a free market without the backing of the European Union and football associations throughout the Continent. And the one place that he is likely to meet implacable resistance is the Premier League, which is riding high on a wave of £2.7 billion paid by television broadcasters that could help the league's 20 clubs to outlast the financial storm."
Moving onto England, the Guardian's Kevin McCarra is the latest hack to come out in support of Michael Owen, who was dropped from England by Fabio Capello. "No matter who happens to be around him, Owen is a key asset to that team, whether or not Capello ever has a use for him again. On closer inspection the implication that a mere goal-snatcher is no longer worth a berth in the England squad is weakly based. Capello, after all, contradicted his own argument by favouring Jermain Defoe.,, England are riding high after the rout of Croatia but there will be tighter games ahead. Capello has no more abolished crises than Gordon Brown halted the cycle of boom and bust. The day will dawn when England crave a shrewd opportunist to save them and, when the moment arises, Owen had better be on hand."
The Daily Mail's duo of Matt Lawton and Neil Ashton claim that England's midfield against Kazakhstan will be (from right to left) Walcott, Lampard, Gerrard and Shaun Wright-Phillips. "Capello's decision to persevere with the Lampard-Gerrard axis, albeit in training initially, might come as a surprise but he recognises their respective qualities in the team… Sportsmail can also reveal that Shaun Wright-Phillips was brought into the squad as a direct left-sided replacement for Joe Cole… Winger Theo Walcott, who followed up his remarkable hat-trick in Croatia with a string of impressive performances for Arsenal, will keep his place on the right."
The Sun's Shaun Custis also claims to have the inside scoop on the England set-up, reporting (like the Daily Mail) that Lampard and Gerrard will be the central-midfield tandem. "Fabio Capello will give Steven Gerrard and Frank Lampard one last chance to prove they can play together… Capello believes Gerrard is far too good to leave out of his side. Lampard's form has made the Chelsea man undroppable — so Barry could be the fall guy."
Leander Schaerlaeckens celebrates FC Groningen's start to the season in Holland. "It wasn't terribly long ago that FC Groningen were tap-dancing on the brink of bankruptcy. They wobbled and nearly fell into the abyss before being forced to go hat-in-hand to rich backers in order to pay players' wages. But if Groningen were to look down today, they wouldn't see ruin but rather every other professional football club in the Netherlands. For Groningen are on top of the world and the Eredivisie table for the second straight week after easily discarding ADO Den Haag 3-0 in a battle of the season's sensations on Sunday."
Looking back on the weekend that was in La Liga, Sid Lowe (Guardian) labels Atletico Madrid's title hopes a sham. "If it's hard to judge how good Barcelona really were having been given such a flying start, it's easier to judge how bad Atlético were: very, very bad. Barcelona's first three were gifts, coming during what one columnist described as "the most idiotic eight minutes in history". And no matter how much president Enrique Cerezo dismissed the result as "illogical" and "an accident", no matter how much he had a point, some fear Atlético have been found out; that the side that looked like genuine contenders aren't."
Onto matters Italian, the Guardian's Paolo Bandini notes how the writing is on the wall for Claudio Ranieri at Juventus. "We all know by now that 88.2% of statistics are made up on the spot but there's nothing false or frivolous about the numbers that will be troubling the Juventus manager Claudio Ranieri this morning. Zero wins from his team's last four games. Five goals scored in the opening six league games, where last year there were 15. The Old Lady's first home defeat to Palermo since February 18 1962. More troubling still, over 70% of Tuttosport readers want to see him sacked. Granted, the Turin-based daily may not be the most impartial – they have been campaigning for the manager to be fired for some time, and today's front-page headline is a simple but effective "Ranieri, out" – but the vote is nevertheless indicative of significant discontent. Even before yesterday's 2-1 reverse, the majority of Juventini wanted shot of the Tinkerman."
However, Football Italia's Giancarlo Rinaldi says talk that Juventus have been plunged into crisis is somewhat premature. "One bad result should not be allowed to cloud the season. However, Juve do face a key run of games when they return after the break for international fixtures. An away day to Napoli and the derby with Torino will represent an important test for their Scudetto credentials. Failure to come up with at least four points would deepen the misery around the club. It is not time to panic just yet for the Bianconeri. There were some major changes made in the summer in the belief that the Turin giants could be turned into title contenders. This League is so well-balanced it would only take a couple of wins to put things back on track. A couple of defeats, however, could turn up the heat on Ranieri's reign."
Bild.de focus their attention on Bayern Munich, asking "When will Klinsi's bosses take his lederhosen away?" "The facts make grim reading: Bayern are enduring their worst start to a season in 31 years, with the champions currently in 11th place. They've already conceded 13 goals this season, against a total of 21 in the whole of last year. Fans even sang for Klinsmann's head at the last game, while yesterday some supporters managed to infiltrate the closed training sessions. Kinsmann knows that the pressure is really on. He talks about it regularly. "In the end, the coach has to recognise what is best for the players. What really has to happen for Bayern bosses to strip Klinsmann of his lederhosen?"
---