Torino's Elvis Abbruscato suffers a horrific injury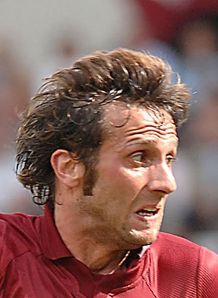 Very sad news from Serie A, as Torino's Elvis Abbruscato has been ruled out for the rest of the season after suffering a horror injury against Siena.
The incident happened during injury time in Sunday's 1-0 defeat, Abbruscato having come on as a 68th minute substitute for Roberto Stellone.
With a cross slung into the box from the left, Abbruscato jumped unchallenged to try and head home an equaliser, only to land awkwardly on his left leg and breaking it clean. The break was instant, with the bottom the leg visibly separated from the top part, as the players from both sides tried to help the striker who was clearly in incredible pain.
Reports from Torino's medical staff say the forward has broken his fibula, dislocated his shin bone and damaged ligaments.
For all those with a strong stomach, Elvis Abbruscato's leg break can be seen here.
Click here for more Premier League betting tips
---