To celebrate his 40th birthday, Ryan Giggs 10 greatest goals for Manchester United [Video]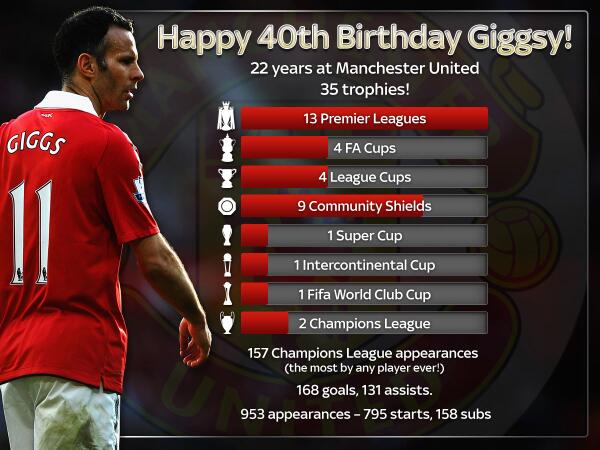 It's not often professional footballers reach the grand old age of 40.
It's even more rare for a footballer to reach 40 at one of the greatest clubs in the world, Manchester United.
Over 22 years ago, a 17 year old Ryan Giggs made his debut for Manchester United and the Welshman is still going strong.
Today he celebrates his 40th birthday and 101GG thought we'd celebrate by compiling a list of his 10 greatest goals during his illustrious career.
What a player! (In more than one regard.)
1. Ryan Giggs v Arsenal (FA Cup, 1999)
2. Ryan Giggs v Spurs (Premier League, 1992)
3. Ryan Giggs v Bolton (Premier League, 2003)
4. Ryan Giggs v Benfica (Champions League, 2012)
5. Ryan Giggs v Juventus (Champions League, 2003)
6. Ryan Giggs v West Ham (Premier League, 2009)
7. Ryan Giggs v Liverpool (Premier League, 1994)
8. Ryan Giggs v Leeds (League Cup, 2011)
9. Ryan Giggs v Fulham (Premier League, 2007)
10. Ryan Giggs v QPR (Premier League, 1994)
---