"To bastardise (copyright Joe 'f***ing' Kinnear) an old joke, if Joey Barton is the answer, it must be a very peculiar question" – George Caulkin
Comment & analysis round-up
Quote of the day: "After the game I was apprehensive about him, I was afraid, because I saw Didier's face in the dressing room. I thought maybe I would lose him for a long time. But when the doctors said to me, 'Look Felipe, [it is] nothing about his cruciate', I was relieved and more confident. I think that in one month, maximum, he is starting to play again. I prayed for Didier because he is part of my family, all of the players are my family. I asked to my God to say 'Look for this player because he tries to play for three months now, he works hard and he is starting [in the team again]'. I think he listened and gave to Didier one more chance to play next month." – Felipe Scolari.
Runner-up: "We need somebody to be ranting and screaming information. We don't have that at the moment. I imagine when Joey Barton comes back that might change. He's a chirpy lad with things to say and he might improve things on the communication front. We certainly need people who are going to express themselves and sort things out, because you can't always do it from the touchline. Joey Barton is one who would be in the Crazy Gang for the simple fact that he is crazy. He is very infectious, just like Danny Guthrie. They whizz in and out. Nicky Butt is the same." – Joe Kinnear.
Today's overview: Unsurprisingly, Newcastle still cannot shake off the attention of the media with Joe Kinnear's soundbites offering the hacks plenty of ammunition to work with this Saturday morning.
George Caulkin reacts to Joe Kinnear's claim that Joey Barton can lead Newcastle forward by claiming "To bastardise (copyright Joe "f***ing" Kinnear) an old joke, if Joey Barton is the answer, it must be a very peculiar question." With regard to the takeover of Newcastle, the Telegraph's Rob Stewart claims that the Bok consortium is 80% sure of having their bid accepted. Paul Parker argues that the Toon should avoid rehiring Kevin Keegan ("Keegan is not the way forward; on the contrary, I believe re-hiring him now would be a backwards step for the club").
On a more light-hearted note, Russell Brand compares Kinnear's sweary outburst to "finding out that, against your wishes, a lodger is moving in, then learning on the first night that he's a flatulent drunk who won't let anyone else use the remote control," while Giles Smith brings the Toon boss up to speed on whats changed in football in recent years.
Flowing seamlessly from one crisis club to another, David Lacey begins the latest round of Spurs bashing by stating "At the rate Tottenham are going White Hart Lane will soon be challenging St James' Park's status as the national joke." Nicolas Anelka adds his voice to those criticising the set-up at Spurs, with the Chelsea striker arguing that Tottenham have too many forward thinking players at the club. Offering a rare ray of sunlight, Henry Winter believes that Spurs can turn the corner – "For all Arsenal fans' cackling over Spurs' woes, Ramos can still build a decent side, provided he is left alone to mould the playing squad."
There are several interviews to trawl through. Oliver Kay scoops the big interview of the day, sitting down with Paul Ince ahead of the arrival of Manchester United. David Hytner sits down with the Dawson family as Michael and Kevin prepare to face off this weekend in the Premier League. Alan Smith proudly announces the "first newspaper interview since the summer furore" with Arsenal's Emmanuel Adebayor. And Ian McGarry claims the EXCLUSIVE first interview with Robinho.
In other Premier League features, Jonathan Wilson talks up LIverpool's title ambitions, Glenn Moore reveals the secrets of Hull's success, Ian Winwood looks at the relationship between Premier League clubs and their fans, and Terry Venables also focused on the newly promoted sides in the Premier League, praising the managers for "flying the flag."
Other articles worth a mention include Kevin McCarra's opinion on what Fabio Capello's next England squad will look like, David Beckham is placed under the spotlight by Guy Adams whose introduction claimed"he's a mediocre player for a failing team in a terrible league," and finally the Irish Independant have a collection of shorts from the last seven days in football including the story of how Marseille had to pay for the fuel to get home from Madrid.
Reacting to the runner-up quote of the day, George Caulkin (The Times) reacts to Joe Kinnear's claim that Joey Barton can lead Newcastle forward. "To bastardise (copyright Joe "f***ing" Kinnear) an old joke, if Joey Barton is the answer, it must be a very peculiar question, but Newcastle United's interim manager has identified the contentious midfield player as a vital cog in the club's attempt to improve their depressed league position. Barton is suspended for two more matches, but Kinnear is already looking forward to his return to the team… The notion of Barton being entrusted with responsibility after so recently serving a prison sentence for common assault and affray – his present ban was connected with an earlier offence – will not sit comfortably with many. In mitigation, the 26-year-old has not touched alcohol this year and Kevin Keegan, the former Newcastle manager, spoke regularly of him as a model professional."
With regard to the takeover of Newcastle, the Telegraph's Rob Stewart claims that the Bok consortium is 80% sure of having their bid accepted. "In separate denials, businessmen Vivian Imerman and Johann Rupert both dissociated themselves from the so-called 'Bok consortium'. However, it is understood that the as-yet unidentified South Africans are prepared to offer Ashley £300 million for the club, with £150 million upfront and the rest paid over 12 months. Cleland, 46, who lives between Edinburgh and Glasgow and has made his name developing brands including Coca-Cola, Cadbury's Schweppes and Whyte and Mackay… [Cleland] 'I would say we are at least 80 per cent confident of this working. We are cautiously optimistic but we are not arrogant.'"
Wading head first into the Newcastle mess, Paul Parker (Eurosport) argues that the Toon should avoid rehiring Kevin Keegan. "Anyone who arrives in the North East without prior experience of Newcastle – either the club or the town itself – seems to be on a hiding to nothing. At the moment, Newcastle fans only have eyes for Keegan and they are desperate to get him back. But Keegan is not the way forward; on the contrary, I believe re-hiring him now would be a backwards step for the club. Whoever buys Ashley out should be given free reign to make their own choices on the manager without having to bow to external influences. They should be allowed to hire someone who they think can do the job properly and guide the club out of their current predicament. Under no circumstances should they allow themselves to be influenced in their selection by the fans and their desire to see a familiar face in the hot seat. If they want to bring in an 'outsider', so be it. Anything else and the club stand to alienate themselves. Whoever buys the club shouldn't have to bring Keegan back just to appease the fans. A long term plan is needed and sometimes to be able to see that, a step back is necessary. Understandably, fans find it difficult to do that."
No stranger to having to deal with the media, batty Russell Brand offers his take on Joe Kinnear's sweary outburst in the Guardian. "Kinnear's authenticity in this instance is comparable to Kevin Keegan's famous "I'd love it" moment where he, brimming with passion and indignation, allowed Alex Ferguson to psychologically topple his side from the Premiership summit. But this occurred at a time when he was already treasured; Kinnear only turned up a week ago. It's like finding out that, against your wishes, a lodger is moving in, then learning on the first night that he's a flatulent drunk who won't let anyone else use the remote control. After a good 20 minutes of what must've been a very difficult situation a Newcastle press officer tried to salvage something by insisting that they "talk football", but by then the damage had been done and the pungent stink of swearwords and conflict must've been stifling – only a lapdance, a firework or a spontaneous romance could've rescued the situation and what was offered instead was the question: 'How's training going?'"
Joe Kinnear is also offered a crash-course in modern day football by Giles Smith (The Times), who attempts to bring to Toon boss up to speed on whats changed in football in recent years. "Television It's all got a bit more confusing recently, with the entry of an extra broadcaster. But, as a rule of thumb, if your game kicks off at 3pm on a Saturday, then you're on Match of the Day. If your game starts at 4pm on a Sunday, then you're on Sky Sports. And if your game starts at 5.15pm on a Saturday and you can't find it on your remote anywhere, then you're on Setanta. Also, if you're on ITV on a Tuesday or Wednesday evening, then you're in the Champions League. But I don't think that's going to happen, if we're being honest. By the way, there's also a Match of the Day 2 now, on a Sunday. It's very good. Some people even rate it above Match of the Day, which is highly unusual with sequels."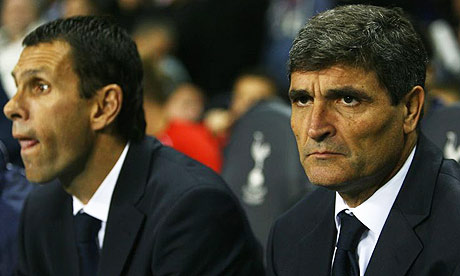 Another day and more Spurs bashing, with the Guardian's David Lacey going on the offensive. "At the rate Tottenham are going White Hart Lane will soon be challenging St James' Park's status as the national joke. A year ago Spurs, playing with a wonky defence and a dodgy goalkeeper, sacked their manager, Martin Jol, and brought in Juande Ramos. Now, after selling good players and buying, for the most part, lesser players, they are still playing with a wonky defence and a dodgy goalkeeper and have sunk to the bottom of the Premier League with even fewer points from their first six matches than the dropping-dead donkeys of Derby County had at a similar stage last season."
Nicolas Anelka (Eurosport) adds his voice to those criticising the set-up at Spurs, with the Chelsea striker arguing that Tottenham have too many forward thinking players on their books. "Tottenham have a superb team on paper, but I think that they are top-heavy. Okay, so a lot of people have said Dimitar Berbatov and Robbie Keane leaving did not help, and new signings Roman Pavlyuchenko and Fraizer Campbell will take time to settle. But I think that there are too many attack-minded players in the side, and I don't mean strikers. They have brought in all these skilful ball-players, but they did not buy a player who protects the defence and gets stuck in. There is a lack of balance to the side, defensively, and when your full-backs like to attack you must have protection."
Offering a rare ray of sunlight, Henry Winter (Telegraph) believes that Spurs can turn the corner. "For all Arsenal fans' cackling over Spurs' woes, Ramos can still build a decent side, provided he is left alone to mould the playing squad. He must find the right position for Vedran Corluka, who is vulnerable to pace at full-back, reinvigorate Jermaine Jenas and work out the best combination to support Roman Pavlyuchenko. When the Russian international has drawn breath after an exhausting summer, he may blossom into the focal point Ramos requires, a forward who can take the ball to feet, bring the likes of Luka Modric, Giovani and David Bentley into play as well as offer an outlet for balls over the top."
The Times' Oliver Kay scoops the big interview of the day, sitting down with Paul Ince ahead of the arrival of Manchester United. Ince: "In '93-94, Fergie must have fallen out with every one of us in that United squad," Ince recalled, with a smile yesterday. "There were big egos in that dressing-room and big characters. He could absolutely rollock us and he knew he would get a response. I look at his team today and I think that what Alex Ferguson says probably goes. It wasn't like that back in my time there. If we felt we were right, we would chip right back. There were such strong characters in that team, so many personalities and opinions, no other manager in the world could have controlled it and done what he did. He's the best for me, the best manager of all time."
David Hytner (Guardian) sits down with the Dawson family as Michael and Kevin prepare to face off this weekend in the Premier League. "For a split second, Andy will be transported back to the family home and those endless kickabouts in the back garden. Michael will be, too. 'I remember one Christmas, we had goals bought for us,' smiled Andy. 'We'd play for hours. One of us crossing, one finishing and one in goal. It would be Kev crossing, me smacking shots into the top corner and Mike in net. The youngest always gets stuck in goal.' The age of innocence contrasts sharply with the world that they now inhabit, one of big bucks and stifling pressure. Their boyhood dreams of cracking English football's top flight did not factor in the gargantuan excesses of the Premier League. Yet the Dawsons have retained both exuberance and gravitas."
In the Telegraph, Alan Smith proudly announces the "first newspaper interview since the summer furore" with Arsenal's Emmanuel Adebayor. Adebayor: "A lot of people spoke on my behalf who I didn't even know and that tarnished my image. So I decided that to put things right I had to show the fans that I stayed at Arsenal because I love this club. I told myself that I wouldn't get booed all season. It might happen for two or three games, but after that they would see that I have a desire to play for this club. To be honest, I've made a lot of sacrifices by staying. The fans thought I wanted to go because of money but if that was the reason I would have left. Everyone knew what I could earn at other clubs."
The Sun's Ian McGarry proudly claims the EXCLUSIVE first interview with Robinho, who speaks of his ambitions at Eastlands. Robinho: "I am already a god and I didn't do a thing! But my desire is to pay it back, to show the supporters my gratitude with goals, great play and victories… My English so far is rated two out of 10. I'm not having classes yet as I am still living in a hotel. But when I move, I will have time for that. In six months' time, it will be 10 out of 10… My favourite moment so far has to be the goal against Chelsea. Even more because it came from a free-kick and I am horrible at free-kicks! I decided to take that one because I was full of confidence. My debuts are always great. The first time I played for Santos, I earned the foul that ended up in a winning goal. Then, with Real Madrid, I played very well against Cadiz. I knew something special was going to happen in my debut for City, too."
The FT's Jonathan Wilson talks up LIverpool's title ambitions. "Is it possible to win a league title by stealth? Will England suddenly wake in May and find, to general surprise, that Liverpool are top of the Premier League? Recent history teaches caution, for there has been early season optimism at Anfield before, but it does seem, finally, 19 years after their last league title, that Liverpool might be about to launch a realistic challenge… The squad still lacks depth compared to United or Chelsea, and a couple of serious injuries could derail them, but Benitez's sides have historically grown stronger as the season has gone on, a facet of his much-derided rotation policy. The problem has always been that they have stuttered early, but if they can beat the inconsistent Manchester City away on Sunday, there really would be reason for optimism."
Glenn Moore reveals the secrets of Hull's success in the Independent. "Shop early, and often The club that is promoted through the play-offs is usually hamstrung by their late accession as many players are already fixed up. Brown managed to sign six players by mid-July, three more by the end of the month. This meant that unlike, for example, David Moyes at Everton, he had time in pre-season to bed recruits into the team. Eventually, Brown brought in 13 players for £7.9m, three on loan. None have cost more than Anthony Gardner, £2.5m from Tottenham. There was more cash available; he would have gone to £9m for Fraizer Campbell alone. However, like Tony Pulis at Stoke, he found it hard to convince players to sign. Further spending is likely in January, especially if Hull maintain their good start as it will be easier to attract players."
The Mirror's Ian Winwood looks at the relationship between Premier League clubs and their fans. "The relationship between a fan and his or her club is about more than what happens on the pitch. In the majority of cases 'we' as supporters have no more ownership of 'our' club than we do of the train company that ferries us to an away game. The allegiance is entirely illogical, and it is from this quality that it derives its strength. How did my team do at the weekend? 'We' lost. 'We'? Who the hell is 'we'? What part did I play in 'our' defeat? To varying degrees, football fans can claim to ownership of 'their' club in just one way: moral ownership. Increasingly, at the game's top table your team does not need you, and if you turn your back on it you will be replaced without anyone in power either noticing or caring. Your allegiance means more to you than it does to them. Because of this, it is up to you to take care of it."
Terry Venables (The Sun) also finds himself focusing on the newly promoted sides in the Premier League, praising the managers for "flying the flag." "Phil Brown and Tony Mowbray — both from the North East — and Wales-born Tony Pulis are all striking a blow for the much-maligned British bosses… They have not been daunted or overwhelmed by the size of the challenge facing them. They've got confidence in their methods and have taken the step-up in their stride. Of course it's still very early days and every promoted team benefits from an initial burst of enthusiasm before the harsh realities of life with the billionaire clubs kick in. Commonsense states that at least one of them will go down because the odds are all stacked against them. They simply don't have the strength and quality of squad to compare with most of their rivals. But even if none of the Premier League newcomers lasts beyond next May, it still won't diminish from the achievements of their managers."
The Guardian's Kevin McCarra looks forward to Fabio Capello's next England squad, discussing the possible changes to the squad, parrticularly on the wings. "There is undoubtedly a case for bringing back Shaun Wright-Phillips since he has been galvanised by his return to Manchester City from Chelsea. If Capello opts to restore the winger there will be a delicate choice to be made. If he follows recent practice and sticks to a 23-man party he will probably have to eject a wide midfielder.There has been a suggestion that David Beckham, after 105 caps, may be ditched amid reservations about the wisdom of continuing to bring a veteran back from the United States… Another wide midfielder, David Bentley, may be more vulnerable… The left wing could be an important issue for Capello. Stewart Downing was ineffective against Andorra and that bolsters the case for Aston Villa's Ashley Young. His impact against Chelsea tomorrow will be studied intensely."
David Beckham is placed under the spotlight by the Independent's Guy Adams, with the headline of the piece stating "he's a mediocre player for a failing team in a terrible league." "As captain, Beckham will soon be forced to shoulder the burden of having led LA Galaxy to their second year of failure running. It's an especially galling statistic, given the side's track record of success prior to his arrival, which saw them top the division five times in a decade… At 33, the best years of his career are behind him, and his move to California in 2007 was a tacit admission that his life was entering a new phase. But the speed of his subsequent professional decline, and the ungainly manner in which his club and international careers are now disintegrating, may have caught him by surprise."
… and finally, the Irish Independant have a collection of shorts from the last seven days in football including the story of how Marseille had to pay for the fuel to get home from Madrid. "The French side had to organise a whip-round to get home after a Champions League match in Madrid during the week because their plane didn't have any fuel. The bizarre incident happened a couple of hours after Marseille had lost 2-1 to Atletico Madrid when an so-called 'administrative error' by oil company Exxon meant that the plane was stuck at Barajas Airport with an empty fuel tank. When the oil company refused to take a credit card payment from the pilot, the exasperated players, along with team staff and officials, put their hands in their pockets and stumped up the €3,000 required to get the plane in the air."
---