Time lapse video: An ex-Arsenal groundsmen worked his butt off before Iceland played Croatia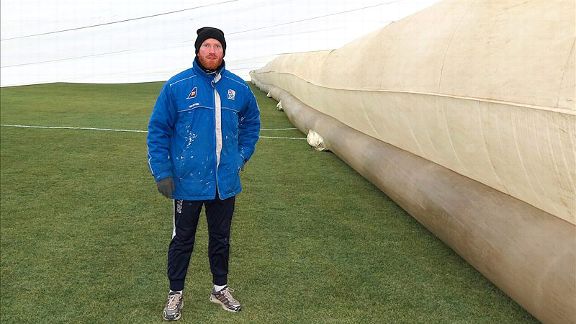 Arsenal's home pitches, whether at the Emirates or at Highbury, have always been regarded as the finest in the Premier League, and the teachings of the Gunners ground staff was seen in action last weekend in Iceland.
Croatia v Iceland: Watch a Live Stream of the 2014 World Cup playoff – available in UK [19/11/2013]
Getting the surface playable for Iceland's World Cup qualifier against Croatia was no easy matter.
The tiny Scandinavian country had never staged a match in November before as the horrendous weather conditions in the country make playing football virtually impossible.
Kristinn Johannsson, once a member of Arsenal's grounds-keeping staff, was the man responsible for getting the pitch ready for the match, and he told ESPN about the hardship that job entailed.
It's been a crazy few weeks of preparation. I've been working my backside off.
We've been dealing with problems that I doubt anyone else has. My pitch is very old — believe it or not, the grass dates back to 1976! We don't have under-soil heating or even any sprinklers. With heating, there'd be very few issues. 
The thing is, you just can't escape the weather at this time of year.
We rented some MacLeod Covers from England to protect it and put them up last Friday. They won't be taken off until shortly before kickoff. I've cut it and marked all the lines out already so that we're good to go. 
All the efforts from the groundsmen paid off, and history was made in Reykjavik as the playoff was held.
Watch a time lapse video showing how the pitch was prepared before Iceland played Croatia below.
---
GAMBLING CAN BE ADDICTIVE, PLEASE PLAY RESPONSIBLY