Tim Sherwood & the Spurs bench went mental… Paulinho just looked glum!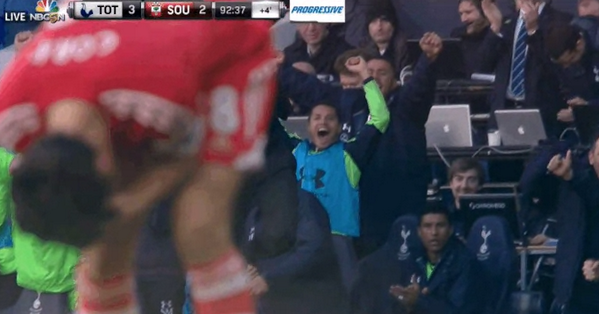 This could well be the picture and GIF that sums up Tottenham's season.
Gylfi Sigurdsson cracked home a late winner for Spurs at home to Southampton with the White Hart Lane crowd thrilled to see their side come back from 2-0 down to win 3-2.
Tim Sherwood went for a Mourinho-esque celebratory run down the touchline.
Michael Dawson and Brad Friedel could be seen jumping out their seats and various security men and officials connected to Spurs all jumped for joy.
And, there in the right hand corner was Paulinho. A Brazil international and a player expected to start for his country in their World Cup on home soil in just a few months.
Paulinho could barely clap.
Now, there are plenty of extenuating circumstances. Paulinho has had his moments for Spurs this season, most notably against Stoke before he was injured by Charlie Adam.
And, today, home-grown Nabil Bentlaeb started in front of Paulinho. And, when Mousa Dembele came off injured, Gylfi Sigurdsson replaced the Belgian.
Paulinho has every right to be a little disenchanted with life at White Hart Lane but this non-celebration will disappoint and also speaks volumes about the club's transfer policy last summer.
---
GAMBLING CAN BE ADDICTIVE, PLEASE PLAY RESPONSIBLY