Thug! Carlos Tevez (Juventus) stamped on Fiorentina keeper Neto's head [Video]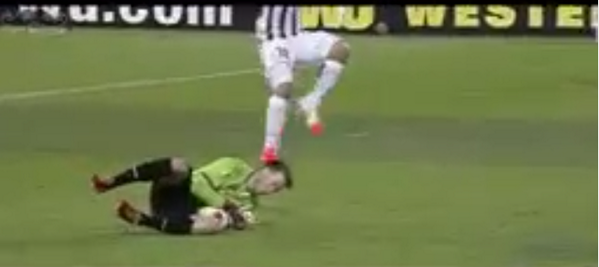 You can take Carlitos out of Fort Apache, you'll never take Fort Apache out Carlitos.
Juve striker Tevez, to be fair, is a pretty level headed player for a guy with that face, but he had a moment of madness against Fiorentina tonight.
Chasing down a ball, as is his forte, Tevez skipped over Neto once the Viola keeper had gathered the ball, but then clearly and deliberately, 'left a little on him'.
Tevez could have easily skipped fully out of the way, but instead left his left leg drag behind him, and allowed it to come down on Neto's head.
Neto and his Fiorentina teammates were outraged, and remonstrated with the ref, but Carlitos got away with just a booking – which was a bizarre funk from the ref.
---
GAMBLING CAN BE ADDICTIVE, PLEASE PLAY RESPONSIBLY