This is how to warm-up before a game: Cristian Baroni vs Arda Turan (Fenerbache-Galatasaray)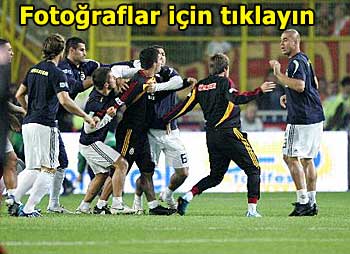 Sunday in Turkey saw the meeting of powerhouses Fenerbache and Galatasaray, a match which Fener won 3-1. But the contest failed to pass without incident as the teams battled it out on the pitch even before the match had kicked-off.
The brawl was sparked by a collision between Fener's Cristian Baroni and Gala's Arda Turan as the teams were going through their pre-match routine. Several Gala players were jogging around the pitch in close proximity to the Fenerbache side, only for Baroni to find that the Gala players had formed a buffer between him and his teammates. Looking to rejoin his compatriots, Baroni pushed Arda Turan out his way as he trotted back to his Fener team.
Cue the clash.
The Fenerbache-Galatasaray pre-match brawl can be seen here.
***
When the match finally got under way, tackles were typically flying from both teams. And in a brilliantly bizarre piece of footage, the Fener medical team seemed to adopt mother-loving treatment measures in order to help their injured players.
The incident related to a coming together between Roberto Carlos and Abdulkader Keita, as the legendary Brazilian full-back was grounded after taking a punch to the head in the 74th minute. Keita was shown a straight red for his aggression while Roberto Carlos earned a yellow for his part in the melee.
With Carlos riding on the turf in agony, the Fener doctor appeared to issue the "kiss of life" to the human cannonball as the medic leaned over Carlos and slapped a wet one on the player's cheek as a way of improving the number three's health.
The incident can be seen thirty seconds into this video.
---