Theo Walcott CAN make the World Cup; Roberto Baggio recovered in 77 days from similar injury
"Theo will have surgery in London in the near future and is expected to be out for at least six months, therefore missing the remainder of the season and the World Cup in Brazil in the summer." – Arsenal statement on Theo Walcott's injury.
Arsenal losing Theo Walcott is of course a major blow. The Gunners have the opportunity to claim silverware this season and are firmly in the race for the Premier League title.
Walcott was coming into great form, had arguably his best performance in his favoured striker role on Saturday and Arsene Wenger does not have many players of his type in the Arsenal squad.
But, Wenger can go and splash the cash this January (Dimitar Berbatov perhaps?) or promote from within with Alex Oxlade-Chamberlain and Serge Gnabry looking like more than useful replacements.
For Roy Hodgson, the chances of recovering from Walcott's injury are much more problematic.
Walcott would have been first choice for the World Cup and the Three Lions cannot go out and buy a replacement.
However, there is hope. With suggestions that Arsenal's statement ruling Walcott out the World Cup was premature.
Michael Davison, a Football Medicine Specialist, writes in the Daily Telegraph today:
"Reading the Walcott statement… it feels more like a corporate earnings statement than a detailed medical briefing. In this instance there is no mention of whose prognosis this is. Is it from the manager, the CEO, the club doctor or the surgeon? It is definitely not from the player.
Medicine is not a science, but a practice based on sciences, acting in a world of values. In short, nothing is certain but also the power of recovery depends on the approach and mindset.
So for Walcott, the chance to play in Manaus on June 14 could still be alive but we do not know enough yet to dismiss or accept this premise. Certainly it needs a more open mindset though from the tone of the club's statement to get him there."
The best example of a player returning in record quick time is Italian legend Roberto Baggio, who came back from a similar injury to Walcott's in just 77 days before the 2002 World Cup.
It should be noted, that Giovanni Trappatoni did not pick Baggio to play in South Korea and Japan, much to the disappointment of the fully fit forward.
A famous interview with Baggio, from Gazzetta dello Sport, on his return from injury, is below.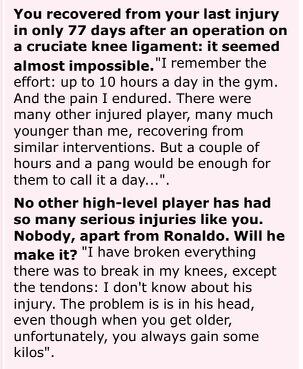 ---
GAMBLING CAN BE ADDICTIVE, PLEASE PLAY RESPONSIBLY