The Tweets after news breaks that Joe Kinnear will be Newcastle's new Director of Football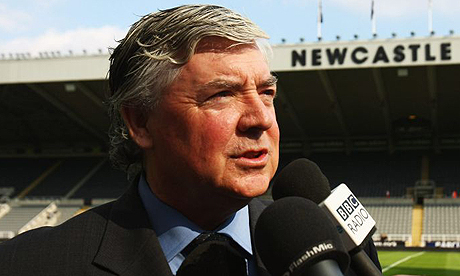 Twitter woke up on Sunday afternoon with the rumour that Joe Kinnear is set for a shock return to St James' Park to become the Director of Football of Newcastle.
Magpies will no doubt remember Kinnear's chaotic spell as manager on Tyneside back in 2008-9, when the cockney took over the post following Kevin Keegan's dismissal from the club.
Kinnear put in a lot of effort on the touchline at Newcastle, before he was unfortunately forced to leave the job due to heart problems. Yet Kinnear's tenure at the Toon was also filled with colourful, embarrassing incidents too.
Famously Kinnear swore 52 times in six minutes during his first press conference in charge of Newcastle, calling the Mirror's Simon Bird a "c***". Moreover, the manager had a massive falling out with Charles N'Zogbia, with the final straw coming when the gaffer mispronounced N'Zogbia's name during an interview in which he called him 'insomnia'.
Now rumours have sprung up Joe Kinnear may be Newcastle's new Director of Football and the reaction has been quick in coming.
UPDATE: Newcastle have now confirmed that Joe Kinnear has signed a three year deal to become Newcastle's new Director of Football. Kinnear has told Sky Sports that he'll have the final say on all Newcastle transfers.
Read a collection of the best Tweets below.
Sources close to former #nufc boss Joe Kinnear have suggested the ex-Wimbledon manager is a strong candidate to return

— Lee Ryder (@lee_ryder) June 16, 2013
There's madness, there's utter madness, then there's the potential decision to make Joe Kinnear director of football. Oh my days. #NUFC

— Scott Wilson (@Scottwilsonecho) June 16, 2013
April Fool's Day? Sadly not. Joe Kinnear poised to return to #NUFC as director of football? Honestly, it's a possibility.

— Scott Wilson (@Scottwilsonecho) June 16, 2013
Joe Kinnear heading back to #nufc as Director of Football. I'm actually speechless. Able to type. Just can't speak.

— Luke Edwards (@LukeEdwardsTele) June 16, 2013
Wow… Joe Kinnear AND Alan Pardew. Now there is a dream team.

— Michael Graham (@Capt_Fishpaste) June 16, 2013
Joe Kinnear back to Newcastle? Get that swear jar out! #nufc

— Anton Stanley (@antonstanley) June 16, 2013
Mike Ashley's ability to continually take the piss out of a football club remains wonderfully intact.

— Steve Brenner (@SunSteveBrenner) June 16, 2013
"Joe Kinnear" is an anagram of "Inane Joker". Sorry, couldn't resist. #NUFC

— Conor McNamara (@ConorMcNamaraIE) June 16, 2013
5 – Joe Kinnear won only five of 24 Premier League games as Newcastle manager (21%). Upstairs.

— OptaJoe (@OptaJoe) June 16, 2013
---
GAMBLING CAN BE ADDICTIVE, PLEASE PLAY RESPONSIBLY