The Tweets: Man United fans react to Cristiano Ronaldo's contract extension at Real Madrid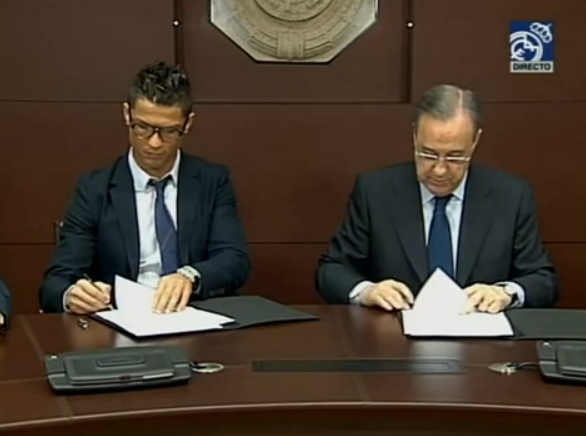 Earlier on Sunday it was officially announced that Cristiano Ronaldo had signed a new 5 year contract with Real Madrid.
Manchester United fans weren't best pleased as their hopes of re-signing their hero all but disappeared.
With less than 2 years left on his contract, United fans had begun feeling hopeful of bringing back the Portuguese superstar.
However, Ronaldo stated earlier today that Manchester United 'is in his past' and he hopes to end his career at the Bernabeu.
Although some United fans accepted Ronaldo's future will be away from Manchester, other fans of Manchester United took to Twitter to vent their frustration.
Cristiano Ronaldo you're a fucking cunt. "I'll be back one day", then you sign a new contract wtf. Prick.

— RK 416. (@rahulkaushal97) September 15, 2013
I won't be speaking of Ronaldo & United in the same sentence ever again. #gutted

— IG: Mikhel_mufc (@Mikhel_MUFC) September 15, 2013
If fergie was still here, Ronaldo would have come back I'm sure. #mufc

— flying carrot (@e30325ialpina) September 15, 2013
Ronaldo signing a new contract has broken my heart. I blame Ed Woodward even if he did nothing wrong #WoodwardOut #VivaRonaldo #MUFC #Madrid

— Insignificant Human (@MUFC_Champ19n) September 15, 2013
Honestly I hate Ronaldo now. Let's move on please. #MUFC

— Ayman A-One Ameen (@A_sleemy) September 15, 2013
finally these Ronaldo to United rumours can now fuck off, we'll sign Matt Jarvis after he has one good season instead #MUFC

— Official Huggy (@0Huggy) September 15, 2013
Cristiano Ronaldo has succeeded in going from man united legend to serial cunt in just a few minutes.

— Abeeb 聖徒 Ola ™ (@AbeebOla) September 15, 2013
Ronaldo is a fucking wanker

— Darren Hall (@darrenhall27) September 15, 2013
---
GAMBLING CAN BE ADDICTIVE, PLEASE PLAY RESPONSIBLY